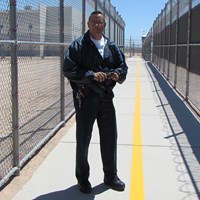 In his 19 years with CoreCivic, Senior Correctional Officer Matthew Trujillo has seen a lot of changes at the company, including a greater focus on reentry programming. Now as squad leader at Eloy Detention Center in Arizona, Trujillo trains and mentors new officers and staff in how to build careers helping others within the company. He also assists in community projects and events. Once a month, Trujillo cooks and serves homeless individuals in Mesa, Arizona.
What motivated you to work in corrections?
I come from a long line of family and friends that are involved in law enforcement. A friend advised me about CCA in 1998 and told me that they had openings for correctional officers in Eloy, Ariz. I applied, interviewed, and was hired. I never looked back. To this day, I have never called in sick, nor I have ever been late. As an instructor here, I inform new hires that working for CoreCivic is a great place to start.
How has the company changed since you first started working here?
There is now a stronger focus on education, vocational programs, drug rehabilitation, along with anger treatment and behavior services for the detainees and inmates.
How has been your proudest moment with the company?
My proudest moment is when Warden (Michael) Donahue presented the Employee of the Year Award to me in December! It was a proud moment knowing that all my hard work and dedication was recognized and appreciated.