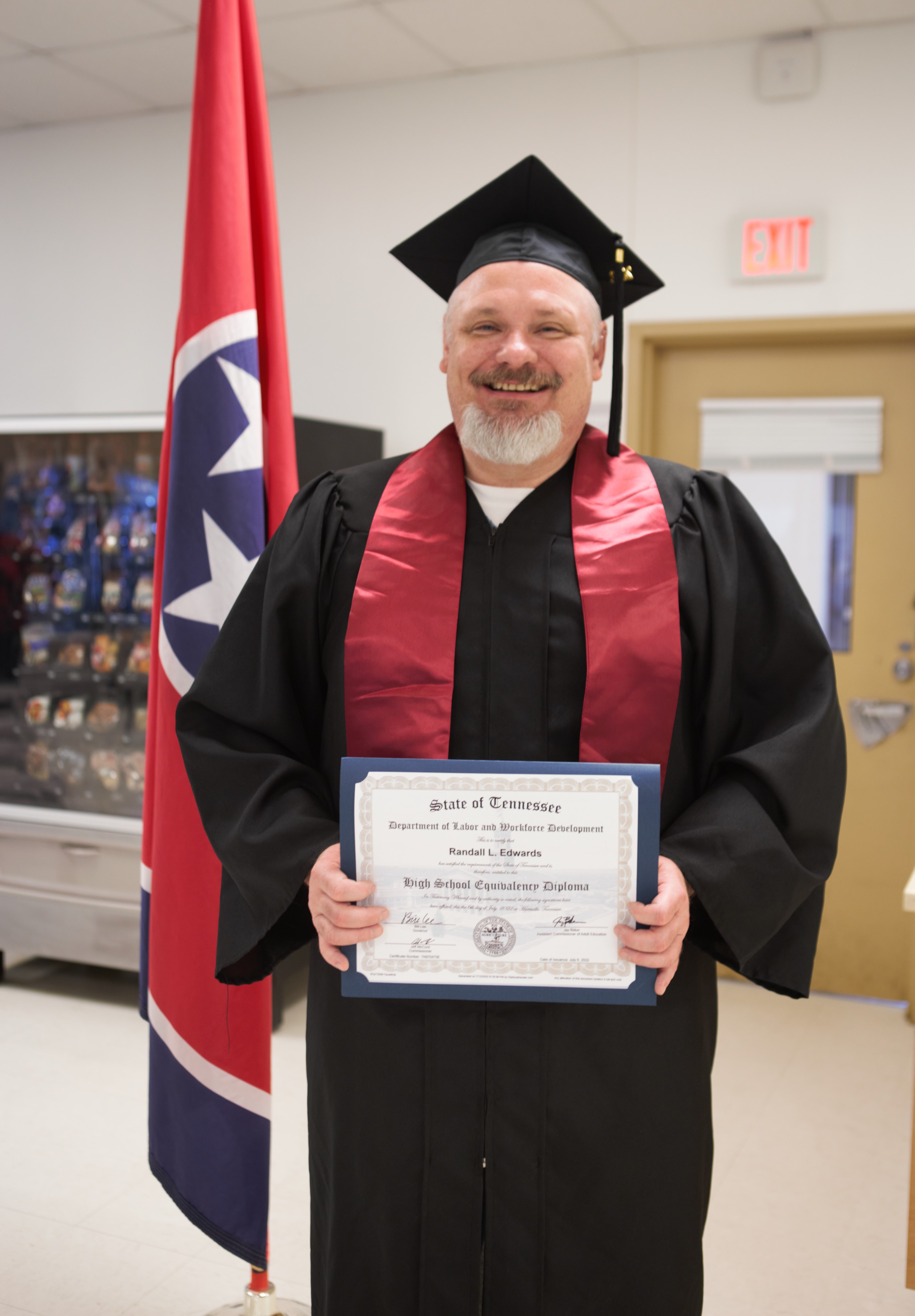 The reentry programming offered at CoreCivic facilities can change the lives of those in our care. From high school equivalency (HSE) diplomas to industry-recognized certificates (IRC) or post-secondary education, graduating from these programs are key milestones in the lives of residents at CoreCivic facilities. Celebrating with family can make these events even more special.
Recently, a group of 25 residents at Trousdale Turner Correctional Center in Hartsville, Tennessee, took part in a graduation ceremony to celebrate the successful completion of a variety of educational programs offered at the facility. The ceremony was attended by the graduates, instructors, administrators, and thanks to the easing of COVID-19 restrictions, a small group of the graduates' family members.
Randall Edwards, a resident who graduated with an HSE at Trousdale, said his family is especially important to him, and he looks forward to reconnecting with his children and grandchildren once he is released. He also shared that he is thankful for the opportunity to continue his education and aspires to continue learning, either through an associate degree or by learning a trade.
"My experience in the education department at Trousdale has been a positive one. I came to prison without a high school diploma. Being a high school dropout limited me in basic financial advancements," said Edwards. "As a student [at Trousdale], I was shown the advantage of having a high school diploma. I would like to thank the education department for their encouragement in the success of my new ongoing journey."
The celebration did not only include those who received an HSE. Of the 25 graduates, seven earned their HSE, four earned a Construction CORE Safety certificate, two earned a vocational certificate in masonry, 11 earned a Career Management for Success (CMS) certificate of completion, and one earned a paralegal certification from Blackstone Career Institute.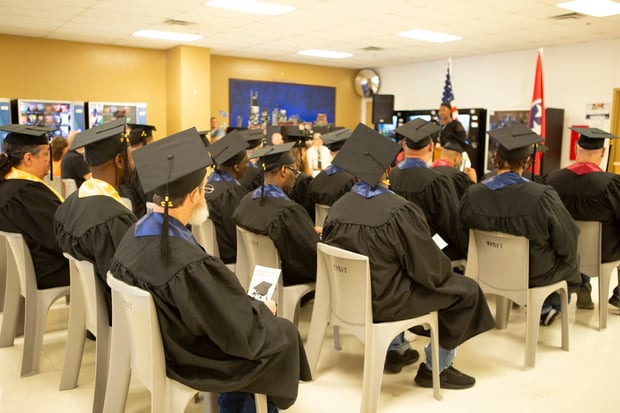 "Education is vital to success upon reentry because it not only teaches residents a vocational trade or assists in completing their high school equivalency, but it also teaches how to appropriately react to negative feedback from discouraging people in their lives," said Dr. Monica Burns-Dunnagan, education counselor at Trousdale. "Education also allows them to re-enter their community with tools to tackle life, be successful, speak to potential employers, as well as avoid falling into setbacks."
While Edwards is thankful for receiving his diploma, he expressed gratitude for some of the intangible skills he has learned, such as improved decision-making skills that will help him once he's released.
"Choosing how to keep ourselves busy dictates our mindset. Keeping a mindset for learning will enrich our thinking process and will result in a more productive existence," Edwards said. "Not having a diploma was a handicap I chose to have. Now, I'm armed with the tools and the mindset to go after a better life."