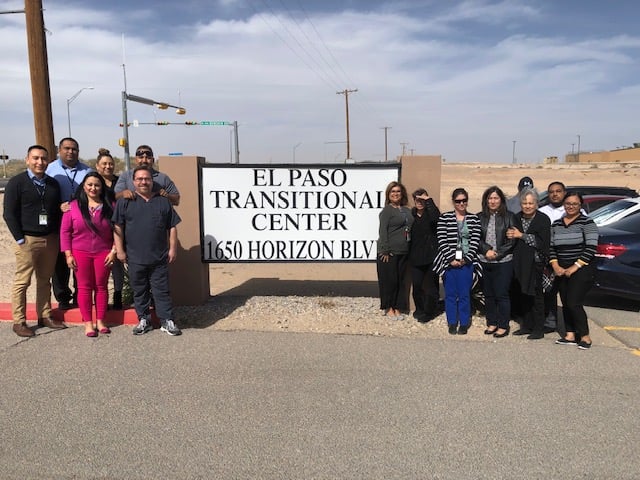 In the far western part of Texas, in El Paso, you'll find two CoreCivic Community facilities, within a short, one-minute walk from each other.
On the higher elevation is El Paso Multi-Use Facility (MUF), and just downhill is El Paso Transitional Center (TC). Both facilities serve individuals on behalf of the Texas Department of Criminal Justice, and both help residents prepare for reentry. Both facilities also serve the local community. In August 2019, they participated in an El Paso area walk to raise awareness and funds for abused and neglected children.
While the two facilities have similar residents and missions, they also have their own unique stories to tell.
El Paso Multi-Use Facility
El Paso MUF, with 56 employees, has a 50-bed residential treatment program, a 240-bed halfway house, and 15 beds for homeless military veterans who are not in the criminal justice system.
In addition to the reentry programs available at both facilities, El Paso MUF offers a victim impact program, which helps residents understand the impact of crime on both victims and their communities. El Paso MUF also offers a cognitive behavior class, which teaches decision-making skills and taking responsibility for one's own actions. Separately, the facility partners with Emergence Health Network for mental health services.
El Paso Transitional Center
El Paso TC has a staff of 36 employees. As one of the main processing centers for transitioning parolees from state prison, El Paso TC serves as a halfway house, with a focus on successful reentry. Residents receive onsite case management services within 24 hours of arrival, and the main priorities case managers address involve medical, dental and other needs.
"When our residents are transitioning out of prison, the case managers work with them to identify a viable home plan," said Hector Melchor, facility director at El Paso Transitional Center. "Every case is different and therefore, the length of stay can vary because it depends on how quickly residents can find a home plan or an alternate placement to complete their parole sentence."
El Paso TC is divided into five dorms and each one is home to 40 residents. Individuals have access to recreation rooms and a food service areas. The facility also offers art classes for residents, and an onsite gallery that showcases their work.
Making company history together
Recently, El Paso MUF and TC made company history as the first CoreCivic Community facilities to participate in the American Correctional Association (ACA) accreditation process. Although they operate in separate buildings, the two facilities underwent a single ACA audit together. They collectively scored 100 percent, meaning both facilities fulfilled all mandatory and non-mandatory requirements.
"This achievement is a team win," said Daren Swenson, CoreCivic vice president of Community Corrections. "I want to recognize the entire staff at our two El Paso facilities, and the many other CoreCivic Community team members who contributed to the successful audits. We could not have reached this huge milestone without the help and guidance of everyone involved."