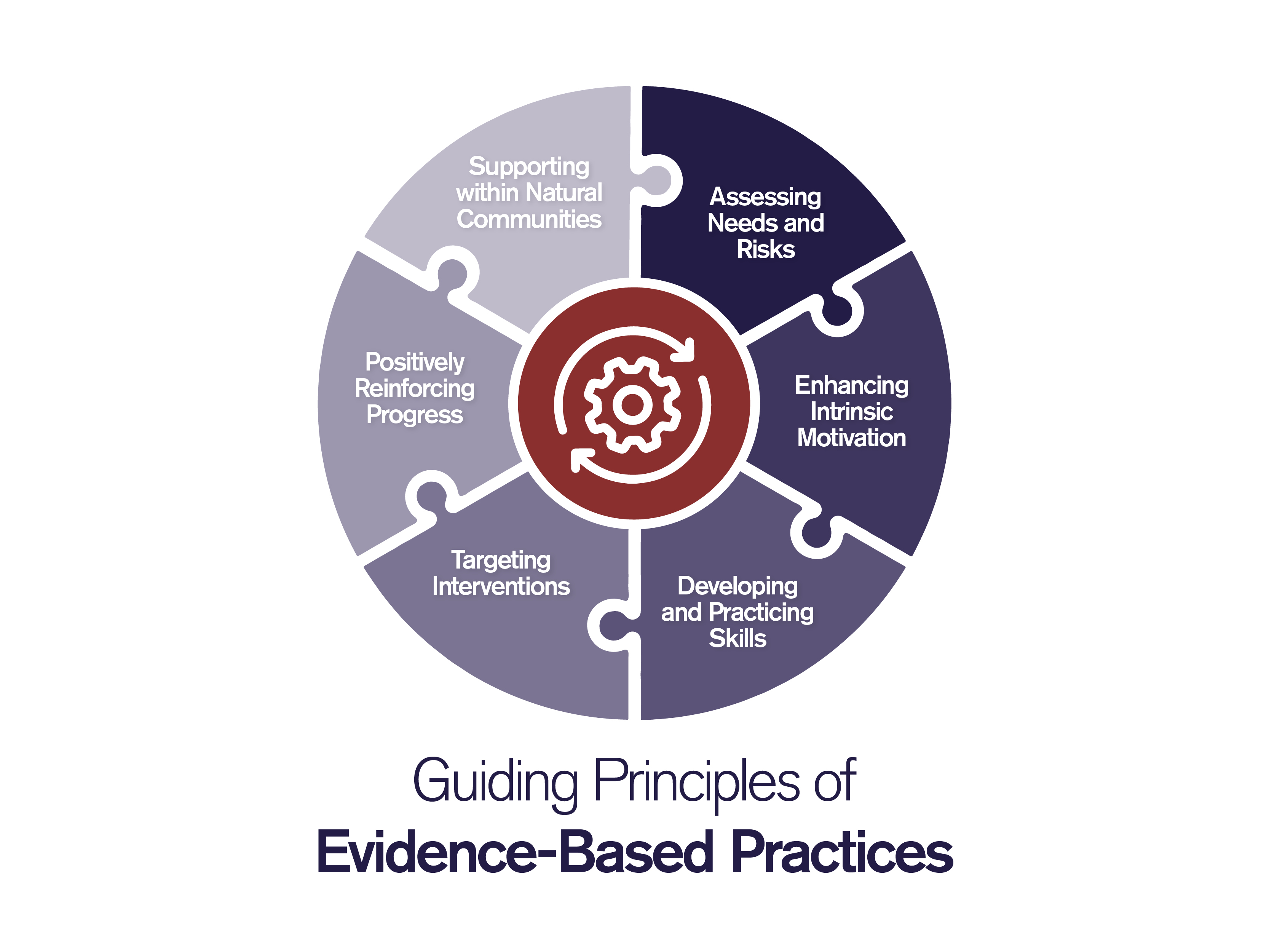 At CoreCivic, we offer integrated reentry services that follow Evidence-Based Practices (EBP) used by the National Institute of Corrections. These principles guide our work to incorporate reentry-supporting activities that support lasting, positive change.
Principle 1– Assessing Needs and Risks
CoreCivic provides timely, relevant evaluations for our residents in Safety and Community facilities to determine their unique reentry needs and provide a baseline for measuring their progress. We do this by evaluating residents' unique criminogenic risks and needs — in short, what is their risk level for committing a crime in the future, and what are their specific reentry needs?
Principle 2 – Enhancing Intrinsic Motivation
An individual's desire and commitment to make a positive change — known as intrinsic motivation — is critical to reducing the risk of recidivism. Trained classification counselors and case managers apply motivational interviewing techniques that combine aspects of collaboration, acceptance, evocation, and compassion to locate and maximize intrinsic motivation.
Principle 3 – Targeting Interventions
This EBP focuses on prioritizing and delivering "targeted interventions" based on risk levels, being responsive to participants' needs, and delivering enough programming to effect change. Research tells us that an adult male resident needs approximately 300 hours of treatment to reduce the risk of recidivism. Our reentry services team provides many avenues for residents to obtain these hours including:
Principle 4 – Developing and Practicing Skills
This principle focuses on delivering functional training like communication and social skills along with opportunities for practice in real-world scenarios. In addition to directed practice and role-play scenarios that support social skills and behaviors, we work collaboratively with community and industry partners to provide opportunities for directed practice.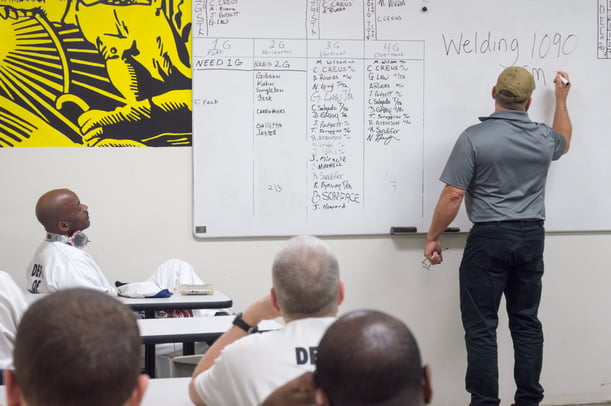 Principle 5 – Positively Reinforcing Progress
Research on EBP shows that developing new skills and making behavioral changes is most likely to occur in a positive environment where progress is acknowledged and supported. To that end, we build in opportunities to recognize resident progress. This positive reinforcement is intended to maintain and fuel intrinsic motivation as participants make progress.
Principle 6 – Supporting Participants in Natural Communities
Research shows that continuing skill use and development within an individual's community is an integral part of success after developing and practicing new skills. To that end, we provide opportunities to engage in communities where skills and changes can be exhibited for a natural and supported transition.
Principle 7 – Measuring Relevant Data
While GEDs and completion rates are important indicators of program success, they do not represent the only metric for success in an individual's reentry process. We also must measure incremental cognitive and behavioral changes in residents, as these can also be indicators of long-term change.
Principle 8 – Providing Measurement Feedback
Measuring data and converting it to feedback allows for continuous development and improvement. Benefits of instructor feedback include more effective instructor training, improved classroom instruction, higher-level student learning, and higher success rates on assessments.
At CoreCivic, we understand that reducing recidivism isn't an easy task. It takes hard work and dedication from both our staff and those in our care. However, by using evidence-based practices to inform our reentry efforts, we believe that we can help remove some of the barriers that cause recidivism and set up individuals for success after they leave our care.