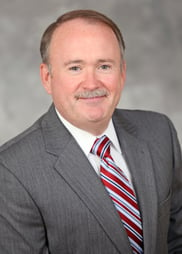 Long before COVID-19 was detected in the United States, CoreCivic had emergency plans in place, including infectious disease management. While many companies around the country are doing well to follow their own policies regarding COVID-19, CoreCivic has the challenge of not only adhering to our own stringent protocols, but also those of multiple state and federal government partners. These various requirements, coupled with the need to leverage subject matter expertise across the enterprise led to the creation of the Coronavirus Response Committee (CRC).
The CRC is a group tasked with monitoring and adjusting CoreCivic's response to the virus based on real time data obtained through the company's Emergency Operations Center (EOC) and changing guidance from the Centers for Disease Control and Prevention (CDC) and other state and federal health agencies.
"We felt early on that we would need to do something on a larger scale, so the CRC was formed well ahead of time," said Steve Conry, vice president of Core Services at CoreCivic.
The CRC, under Conry's direction, started tracking the coronavirus closely in February to understand the possible impact it could have on CoreCivic and the nation as a whole.
"At first, the CRC included a handful of obvious choices: health services, operations, and human resources," Conry said.
Once the initial team was created, the members of the CRC were given leeway to add others who would more wholly represent the organization and specific business units. It quickly grew from a handful of key leaders to a robust group of more than 30, allowing the committee to find solutions based not only on data and science, but also experience.
"We want to vet our ideas with those in the field, so we're constantly asking questions," Conry said. "We don't want to create any unintended impact, so our decisions are always measured."
The CRC works with the field on virus prevention and preparation for potential impacts. The group meets weekly with facility leaders who are responsible for informing staff of updated guidance and helping those in our care understand the importance of compliance to safety protocols.
At each meeting, the CRC discusses any new developments and readdresses prior decisions to ensure they are still appropriate. They use a computerized dashboard to gather real time data across all facilities and then use that information to help inform decisions on items such as travel bans, and what activities are permissible based on CDC recommendations.
Experience is crucial when leading a pandemic response team, and Conry brings it. With 37 years of corrections experience, Conry has an impressive background in emergency crisis management with an extensive history and knowledge of incident command systems and security operations.
Before joining CoreCivic in 2006, Conry was warden at West Facility in New York, a state-managed facility. There, he managed a 140-room Contagious Disease Unit that individually housed patients suffering from tuberculosis. This gave Conry deep experience working with negative pressure isolation, personal protective equipment (PPE), medical personnel, and prevention protocols.
While acting as committee leader, Conry praises his long-tenured and highly skilled team who carry the load on CoreCivic's coronavirus response. The committee members, he said, are champions for the field and fighting this pandemic is a team effort.
"We know based on national reports that the virus will continue into the new year," said Conry. "We've planned accordingly and remain hopeful for a successful vaccine - managing the vaccination process will be our focus in 2021 as CoreCivic and the nation moves to the other side of COVID-19."