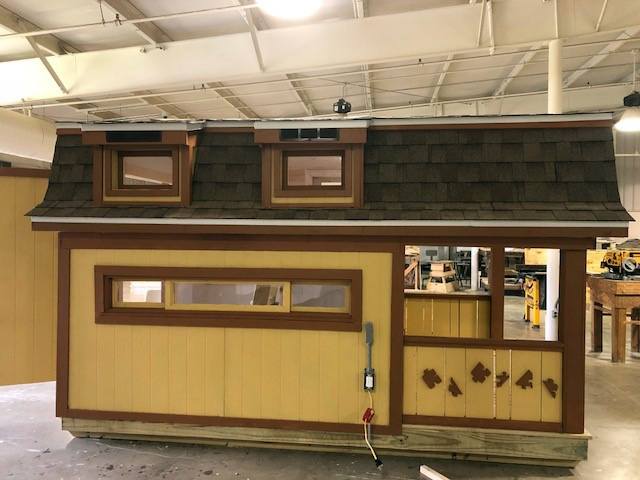 Through building maintenance program, inmates learn job skills while giving back to their community
The joy of day-to-day discovery, no matter how small, is what Vocational Instructor Charles Leighner finds most rewarding about his job.
Leighner teaches drywall at Lake Erie Correctional Institution – a CoreCivic Safety facility in Conneaut, Ohio. He said his favorite story is about a lesson he once gave on how to use a tape measure. After going over the process, he asked students to take different measurements and record them on a worksheet.
"It wasn't long before one student called to me and asked, 'Is this right? This board is 3 inches wide and 5 5/8 inches long,'" Leighner said. "I told him he was right, and his eyes grew as big as a kid's on Christmas morning. That was a great day for me as well as my student. Just helping an inmate learn to read a tape measure creates excitement and an opportunity to break through."
Lake Erie offers a yearlong building maintenance curriculum through its Transitional Training Program. Inmates who complete vocational training programs like this are 28 percent more likely to find jobs after their release from prison, according to a 2013 study by the RAND Corporation.
Beyond teaching job skills, the program also gives inmates a chance to give back to those in need. All projects the inmates complete are donated to local organizations for their own use or to help raise money through raffles and other fundraisers.
Since 2016, inmates at Lake Erie have completed 30 projects, ranging from picnic tables to doghouses, portable chicken coops, corn-hole boards, sheds and playhouses.
"What interested me in drywall was that I get to use my hands and see finished work that I have done," said Anthony E., an inmate participating in the program. "I also figured it would be a good trade to take back to the community once I am released."
The building maintenance program's two main components are a one-year drywall and construction technology course and a special program that features eight five-week learning modules. Each yearlong class usually has about 20 students.
In the drywall track, students learn how to hang and finish drywall, as well as basic carpentry skills. Most important, Leighner said he tries to teach them the value of personal responsibility.
"The importance of coming to work every day and being on time – these are two very important things that employers rely on employees for, and they're behaviors that will serve these students well the rest of their lives," he said. "I also try to drive the importance of safe work practices, which is critical in the trade industries."

On the construction technology side, Lake Erie Vocational Instructor Cory Thompson starts with the initial specs for a building and takes students all the way through the final inspection process.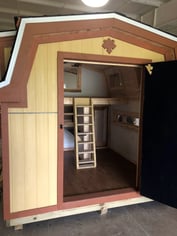 Because of the height restrictions in the shop, projects are limited to less than 8 feet high, making it an ideal space for building playhouses that function like typical homes, but in miniature. One of the most recent playhouses the inmates completed was donated to a nursery school, and another was given to a non-profit organization called Lenape Native Path in Ashtabula, Ohio. It was raffled off to benefit the Lenape Native Path Seventh Generation Land Fund and the Ashtabula County Autism Group.
"It's a great way to not only start teaching inmates the technical skills they can use to get jobs, but also to start thinking about how they can use their knowledge and skills to help others," Thompson said.
Other projects have gone to area schools, county extension offices, the local 4-H club and local civic events such as an annual D-Day commemoration.
"I offer every student the opportunity to learn all of the basic construction techniques to help them get a job once their prison term ends," Thompson said.