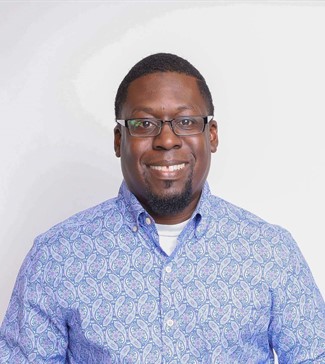 October is Clergy and Pastor Appreciation Month, and there is no better time to spotlight the valuable role that chaplains play at CoreCivic. This month, CoreCivic is highlighting Christopher Swinson, who serves as a chaplain at CoreCivic's Coffee Correctional Facility in Nicholls, Georgia.
While Swinson has been serving as a pastor in his community for more than 25 years, it wasn't until 2022 that he became the chaplain at Coffee. In fact, Swinson worked as a case manager at CoreCivic since 2003 before taking on his current role.
"I think God prepared me for this season of my life," Swinson said.
Beyond his calling from a higher power, Swinson credits his parents for laying the foundation of his faith, placing an emphasis on education and instilling a strong work ethic. Swinson earned a master's degree in seminary and pastoral leadership and a doctoral degree in ministry.
However, preparation for Swinson extends beyond the classroom and his church.
"Every day I try to prepare for the day before arriving to work, knowing that if I fail to plan, I plan to fail," he said.
Swinson strives to promote positivity within the facility, recognizing that greeting someone with a smile—while a simple task to some—might just be what that person needs to help them through a difficult situation.
"As a chaplain, I feel like the doors have really been opened for me to not only interact with the residents, but I now get the opportunity on a daily basis to visit with and support our staff," Swinson added.
Swinson works as a conduit to bring together the necessary resources to support the more than 30 religions practiced at Coffee. He is an active member of the local pastoral alliance where he networks with other faith-based leaders to meet the needs of incarcerated individuals at Coffee, and to give back to the Nicholls community.
During a recent ceremony, where Swinson was consecrated as a bishop by his fellow faith leadership, he was surprised to see that a former resident whom he had worked with during his time as a case manager at Coffee had traveled on a motorcycle from Jessup, Georgia, to Jacksonville, Florida, to attend this event. This individual stood up during the ceremony and shared how Swinson had impacted his life in such a positive way that he felt like a different person.
CoreCivic strives to help individuals maintain meaningful connections to the faith of their choice by providing religious services, resources, and opportunities. Chaplains rely on a robust network of volunteers and religious resource groups to ensure a variety of faiths are accommodated for those in our care. This allows individuals to continue growing in their faith as they prepare for their next step in life with hope and purpose.
Like Swinson, CoreCivic chaplains are prepared to deliver quality faith-based services and support. CoreCivic proudly celebrates all correctional chaplains this Clergy and Pastor Appreciation Month and their dedication to helping change lives.