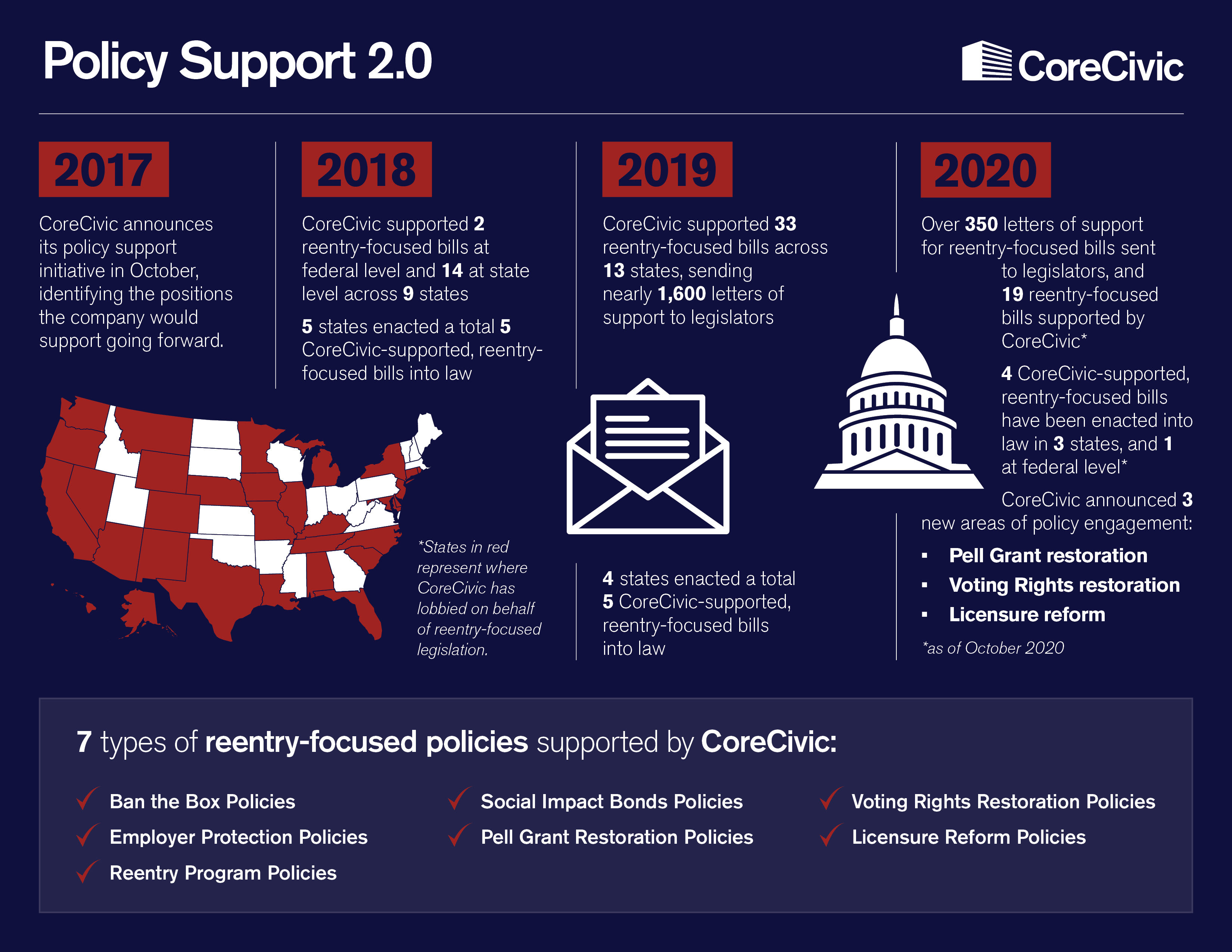 Those who serve time in prison and turn their lives around deserve a second chance.
That has been the motivating belief behind CoreCivic's commitment to reentry for years, and it is now a driving cultural force within the company. It's also why CoreCivic recently announced new support for policies to help incarcerated individuals get an education, restore voting rights to the formerly incarcerated, and remove punitive measures making it harder for formerly incarcerated people to find and keep jobs.
"The First Step Act was a huge victory, but we must do more as a country to reduce unacceptably high recidivism rates in America," said Tony Grande, executive vice president and chief development officer at CoreCivic. "That's why we're advocating for a slate of new public policies at the state and federal levels that will help tackle recidivism. We want to send a message loud and clear that incarcerated people deserve a second chance, and CoreCivic will go beyond our everyday work in facilities to help them get the best opportunity to succeed."
Each year, CoreCivic helps thousands of inmates earn educational degrees and advance toward skilled jobs and careers, receive treatment for substance use disorders, reconnect with faith and community, and change behaviors to help them recognize the impact of their actions on others. Thanks to the company's dedicated teachers, chaplains, treatment managers, counselors, correctional officers, and staff, CoreCivic's programs are helping to change lives.
For example, Reese Slaid, who has been incarcerated for 10 years and participates in a horticulture program at CoreCivic's Crowley County Correctional Facility in Colorado, said the program taught him job skills as well as life skills.
"I learned how to not only care for plant life, but also I developed a sense of self-worth, how to work with others, and be tolerant … retriggering the compassion for others that I had in my youth," he wrote.
Another former inmate contacted his carpentry instructor at CoreCivic's Whiteville Correctional Facility in Tennessee to tell him that one year after release, he was a construction manager working on multi-million dollar projects and making a six-figure income.
Inmates at CoreCivic's Trousdale Turner Correctional Center in Tennessee can take advantage of the company's partnership with the non-profit Persevere to earn certifications in front-end and full-stack web development — a field where 12-18 months' training can help them earn an annual salary of $69,000.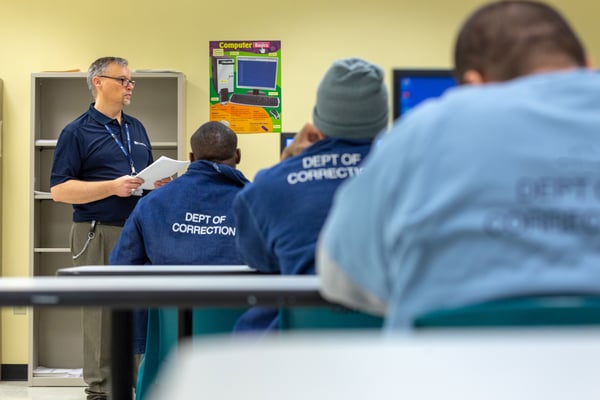 CoreCivic's commitment to reentry is rooted in the fundamental nature of the corrections profession. However, a pivotal moment came in 2014 when President and CEO Damon Hininger announced goals to make the company a leader in reducing recidivism in a landmark speech.
"Setting our initial reentry goals, which remain unprecedented in the public or private sector, was a seminal moment for our company," Hininger said. "We have always been passionate about treating people with human dignity and helping them succeed with their next step in life, but from that point on our employees took that responsibility even more to heart. Now helping people break the cycle of crime and stay out of prison is viewed as our company's purpose."
The successful results of those goals six years later speak to the company's ability to match its actions to words. From 2014-2019, CoreCivic helped more than 7,300 inmates earn high school equivalency (HSE) degrees and more than 23,300 inmates earn industry recognized certificates (IRCs) to demonstrate their job skills in various fields. More than 9,400 inmates completed CoreCivic's proprietary Go Further reentry process, surpassing the goal of 10 percent growth each year. And more than 3,200 inmates completed victim impact programs aimed at fostering empathy and understanding for the impact of crime on others, far surpassing the goal of 2,300 program completions.
The rest of the results of the company's five-year reentry goals were reported in CoreCivic's 2019 ESG report. The process of setting the goals and tracking and reporting progress was a collaborative effort for everyone involved.
"As we stepped up our commitments and built relationships with organizations working to help incarcerated people reenter society, they gave us a lot of ideas about what more we can do to help reduce recidivism in this country," Grande said. "Within our facilities, we can make a huge difference in the reentry process. But anyone involved in reentry work knows that half the battle is helping individuals after their release into the community."
That's why in 2017, CoreCivic launched an unprecedented effort to advocate for state and federal legislation aimed at reducing the rate at which formerly incarcerated individuals return to prison. This included support for Ban the Box, protections for employers who hire incarcerated individuals, boosting government funding for reentry programs, and social impact bonds that tie financial incentives to targets for reducing recidivism. To date, CoreCivic has sent over 1,930 letters to federal and state officials in support of 66 bills that fit the criteria for the initiative. The company has even advocated for legislation in several states where it does not operate, demonstrating the depth of CoreCivic's commitment to these issues.
With that initial push into public advocacy, CoreCivic demonstrated a commitment to reentry not just during incarceration, but in the critical period after as well — when studies show former inmates are most likely to re-offend if not given access to certain resources like employment or housing.
"We learned long ago that successfully reducing recidivism won't happen if we assume we know better than others what works," Hininger said. "Success comes when we listen to others doing this work, blend our knowledge together and put human dignity at the heart of everything we do. Thanks to our partners in the public and non-profit sectors, we understand the challenges facing justice-involved people, both inside correctional facilities and after they're released. With these new policies, we are determined to remove as many post-incarceration barriers to an individual's reentry as possible."