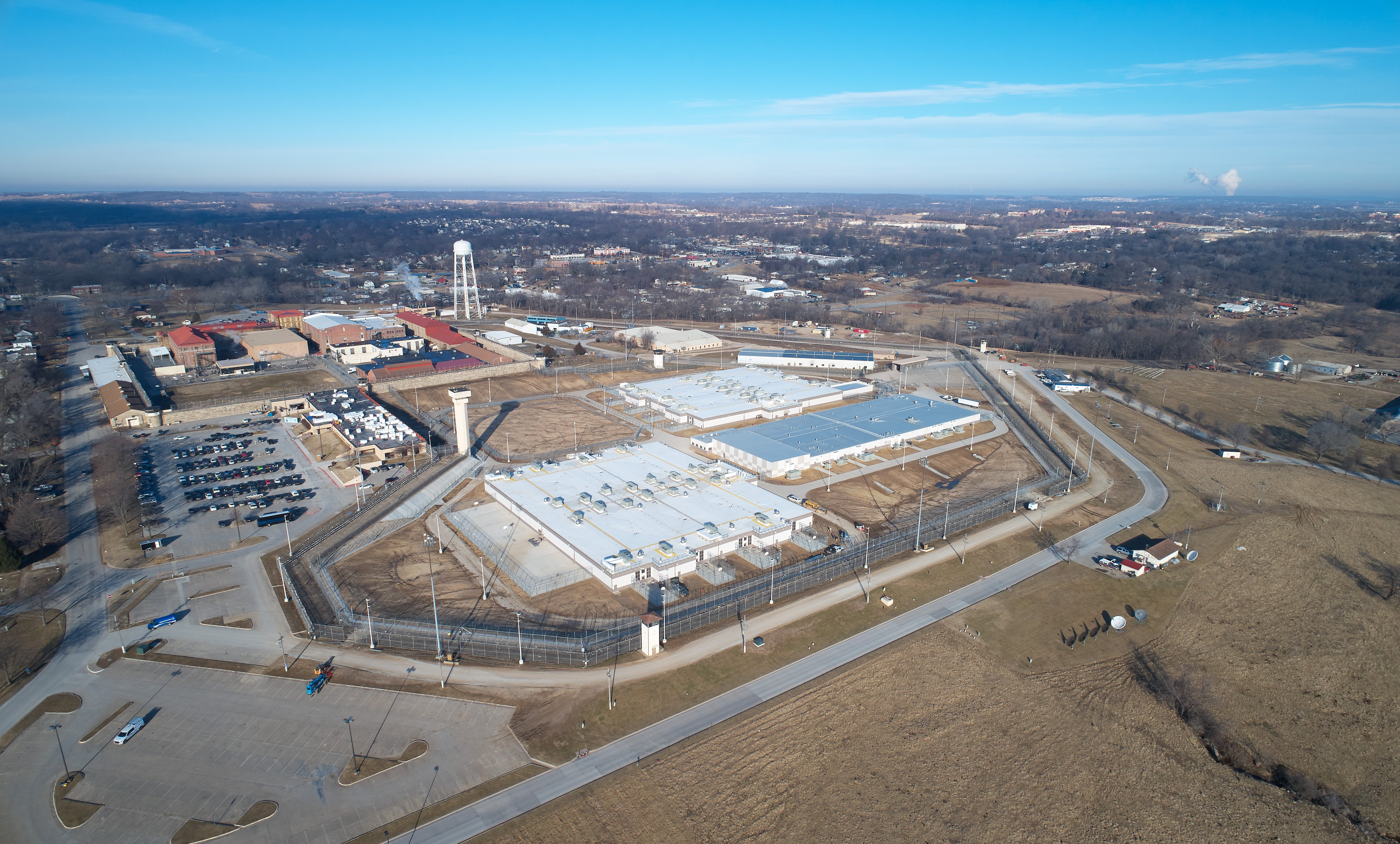 Facing an over-crowded population and aged facilities, the State of Kansas needed updated, efficient and sustainable facilities to meet current codes and criteria. CoreCivic Properties designed and built the 418,000 square foot Lansing Correctional Facility using fast-track scheduling techniques that resulted in reduced construction and financing costs. The project was completed over a 21-month period, with a separate 512-bed minimum security facility opening five weeks ahead of schedule. The 1,920 bed medium/maximum security facility opened on time and on budget in February 2020. More than 350,000 man-hours, mostly by Kansas residents, were used on the project, representing a significant positive economic impact to the local economy.
Award-Winning Design
Earlier this year, Lansing Correctional Facility was named "Project of the Year" ($100 to $250 million category), by the Kansas City Chapter of AGC (Associated General Contractors) and presented with the "Building Excellence Award."
Part of the award-winning design included the use of precast concrete modules. These modules were incorporated as structural elements to reduce costs, and they were delivered to the site with the interiors already finished and fitted with doors, furnishings and plumbing fixtures. This greatly reduced the labor required in the field and helped expedite the construction schedule.
Another notable accolade was the use of environmentally-friendly techniques during construction that included recycling demolished reinforced steel and repurposing demolished concrete under floor slabs and pipe trenches.
Benefits of a Modern, Efficient Correctional Facility

For those housed at Lansing Correctional Facility, they now have access to a modern, efficient facility. The new design provides state-of-the-art accommodations for food service, medical services, spiritual life, recreation and inmate programs and education. With energy-saving lighting and heating and cooling systems to reduce operating expenses, the new design also provides a safe, more comfortable working environment for State employees.
As part of the unique agreement, CoreCivic not only assumed responsibility for designing, building, and financing the facility, but will also retain responsibility for maintenance over a twenty-year period.

What They're Saying

Michael Gaito, Capital Improvements Director, Kansas Department of Corrections: "It was great to work with the CoreCivic and JE Dunn teams. Your teams were experienced working within our environment, with no learning curve required and no incidents during the project. Thanks for a job well done!"
Joseph Haines, Senior Principal, DLR Group Architects and Engineers: "As the Architect of Record, I believe this particular project and unique delivery method was one of the most seamless in my professional career."
Steven Goraczkowski, Managing Director of Design and Construction, CoreCivic Properties: "CoreCivic, the State of Kansas, and the JE Dunn design-build teams worked tirelessly to meet all the challenges of this project. This very unique project required industry experts and seamless communication. The entire team delivered every step of the way: from budgeting, financing, design and construction; to facility start up and commissioning. It was a great pleasure to work with such dedicated professionals."


Lansing Correctional Facility Overview
Located in Lansing, Kansas
400,544 Square Feet
4 Buildings
2,432 Beds