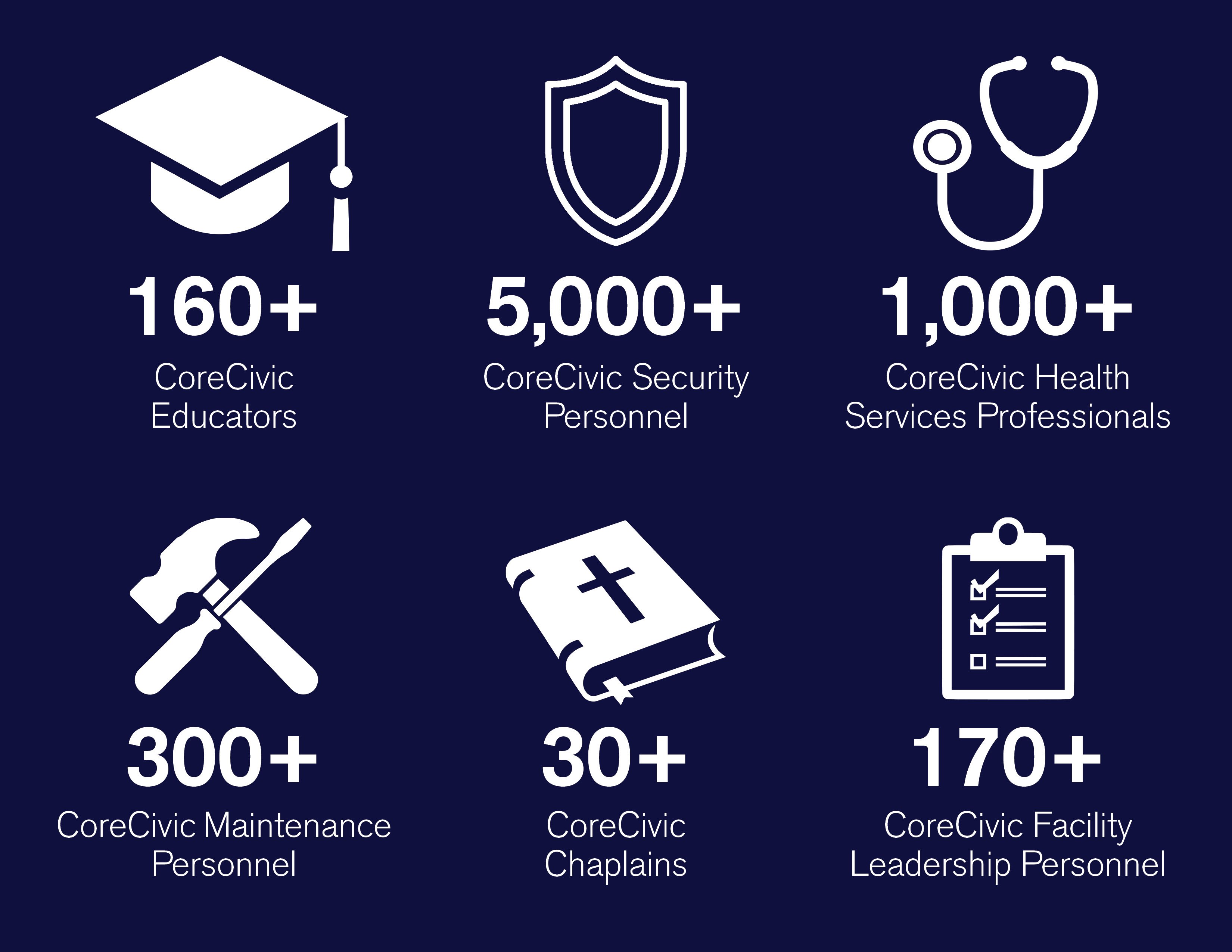 May 7-13, 2023, marks National Correctional Officers and Employees Week (NCOEW). This is a special time to raise awareness and appreciation for the work that corrections professionals do each day to uphold our communities' public safety and help rehabilitate individuals who struggle with criminal behavior. While CoreCivic employees hold many unique roles to fulfill our call of duty, a majority of our team members work in education, security, health care, maintenance, chaplaincy, or in facility management positions. Nevertheless, all CoreCivic employees have one job duty in common: to serve as reentry professionals. Take a look at what many CoreCivic employees do day to day to learn why our roles matter.
Education
CoreCivic's educators teach reading, writing, math, as well as trades such as carpentry, electrical, plumbing, food service, and computer skills. With their guidance, expertise and support, those in our care can learn how to read or improve their reading skills, become proficient in writing and mathematics, and earn industry-recognized certifications, a GED or even a college degree. Approximately 30 individuals earned a college degree in CoreCivic facilities last year, while close to 3,500 earned a high school equivalency or industry recognized certification.
160+ CoreCivic Educators
Security
CoreCivic's correctional and detention officers work with local, state and federal governments to provide high-quality correctional services, detention management needs, and reentry programs to help those in our care rejoin their families and communities. They focus on operating safe, modern facilities, maintaining the robust policies of both CoreCivic and our government partners, providing for individuals' daily needs, and helping prepare residents for success after incarceration.
5,000+ CoreCivic Security Personnel
Health Care
CoreCivic's Health Services team members study, diagnose, treat and prevent illness, injury and other physical and mental impairments in accordance with the needs of the individuals in our care. Our professionals are able to provide preventive care and treatment for overall health including, medical, mental, optical, dental, chronic care and emergency services.
1,000+ CoreCivic Health Services Professionals
Maintenance
CoreCivic's maintenance team members ensure that our facilities operate efficiently and safely. They help install, maintain and repair the facility building structures and systems, including plumbing, electrical wiring and fixtures, machinery, equipment, electronics, vehicles and grounds. They also assist in the implementation of our Green operations, including LED lighting, water conservation and other environmentally-friendly systems.
300+ CoreCivic Maintenance Personnel
Chaplaincy
CoreCivic's chaplains help facilitate a range of faith-based programming. They ensure those in our care have a way to practice the faith of their choice; they facilitate life skills classes that help individuals address issues related to anger management and criminal thinking; and they work with those in our care as they deal with emotions and grief. Additionally, they connect the community to the facility through the management of volunteer organizations' visits and involvement. Whatever those in our care need to be successful for reentry, faith-related or not, our chaplains work hard to help them.
30+ CoreCivic Chaplains
Facility Administration
With facilities nationwide, our facility leaders play an integral role as emissaries of our purpose, mission and values to our government partners, employees and those entrusted to our care. They oversee all aspects of operations including security, programs, human resources, quality assurance, and more.
170+ CoreCivic Facility Leadership Personnel
No matter the role, each correctional professional at CoreCivic knows we have an important job to do - keep people safe, prepare the way for second chances, and better the public good.