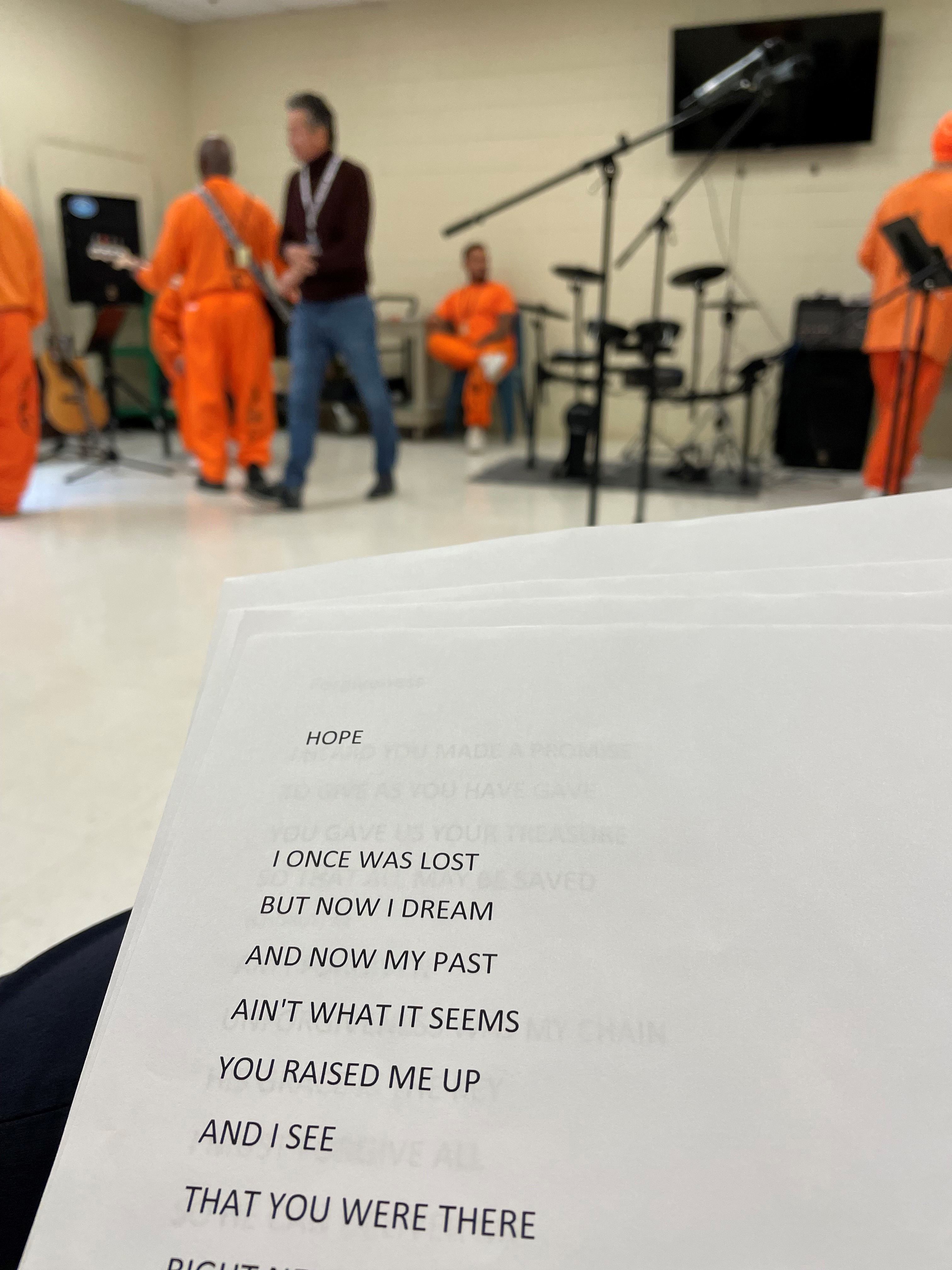 Every song tells a story and can evoke a range of emotions from love, joy, and faith to pain, anger, and regret. Additionally, learning to play an instrument in a group can be difficult, with the stress potentially causing beginners to give up in exasperation and experienced musicians to become frustrated.
My Song for Life is a program that helps participants work through all of these elements. Developed by singer, writer, artist, actor, filmmaker, entertainer, and poet Mark Collie more than 20 years ago, My Song for Life is a reentry program designed to enable participants to tell their stories through music by collaborating with others. Collie's musical experience has now turned into over two decades of prison outreach.
"From the beginning, I believed the songs could matter," Collie said. "I wanted to make something that people could find hope in, or redemption or restoration or forgiveness. One thing that I have learned is that when you bring a song into a room and you bring the joy of a song, it can connect us. The equation changes. Communication begins. For those few minutes, a song can take you anywhere you want to go. There is freedom in that moment. And freedom brings hope and healing."
My Song for Life was launched in 2018 at Metro-Davidson County Detention Facility, formerly managed by CoreCivic. It was a huge success. In 2019, Collie collaborated once again with CoreCivic and The Change Companies to develop an evidence-based cognitive change journal to enhance the program, providing a structured and facilitated approach.
By July 2021, My Song for Life was launched with the new journal at CoreCivic's Crowley and Bent County Correctional Facilities in Colorado, and at Red Rock Correctional Center in Arizona. Facilitated by a variety of staff and volunteers, each facility has a distinctive approach to the program.
Each of the 10 sessions builds on an initial songwriting idea by asking key questions: What is something you would like to restore in your life? Whom are you struggling to forgive? In each session, Collie adds personal notes to encourage and provide guidance.
"Listening to Mark describe his vision for the program, I knew it was something we wanted to do," said Damon Hininger, CoreCivic president and CEO. "I'm very happy we have three new programs to carry it forward."
Collie believes in second chances and is committed to working with justice-involved individuals. The goal of My Song for Life is to inspire participants to find their voices through musical expression designed to help prepare them for successful reentry.
"It is so hard to open up and share your authentic self, especially in prison," said a graduate of the program from CoreCivic's Crowley facility. "I was blessed to be in a class of men who were all willing to collaborate, encourage, and give a safe space. I've learned that you can teach an old dog new tricks if he's willing and motivated."
While My Song for Life is certainly fulfilling for participants, it is also a unique experience for the CoreCivic employees facilitating the program.
"Working, writing, playing, and growing with the participants and connecting with the individuals through song is something most corrections professionals will never experience," said Ian Holcomb, case manager at Crowley.
Change of any magnitude can be hard for anyone and it can't happen until a person is ready. Programs like My Song for Life help participants work through their mental and emotional issues to help facilitate positive change in their lives.
"I learned that I can get along with others and that we don't have to be like-minded to share a song. Music is a light that almost everyone understands," said a graduate of the program from CoreCivic's Red Rock facility. "We need more encouraging programs like this to help people who are broken."