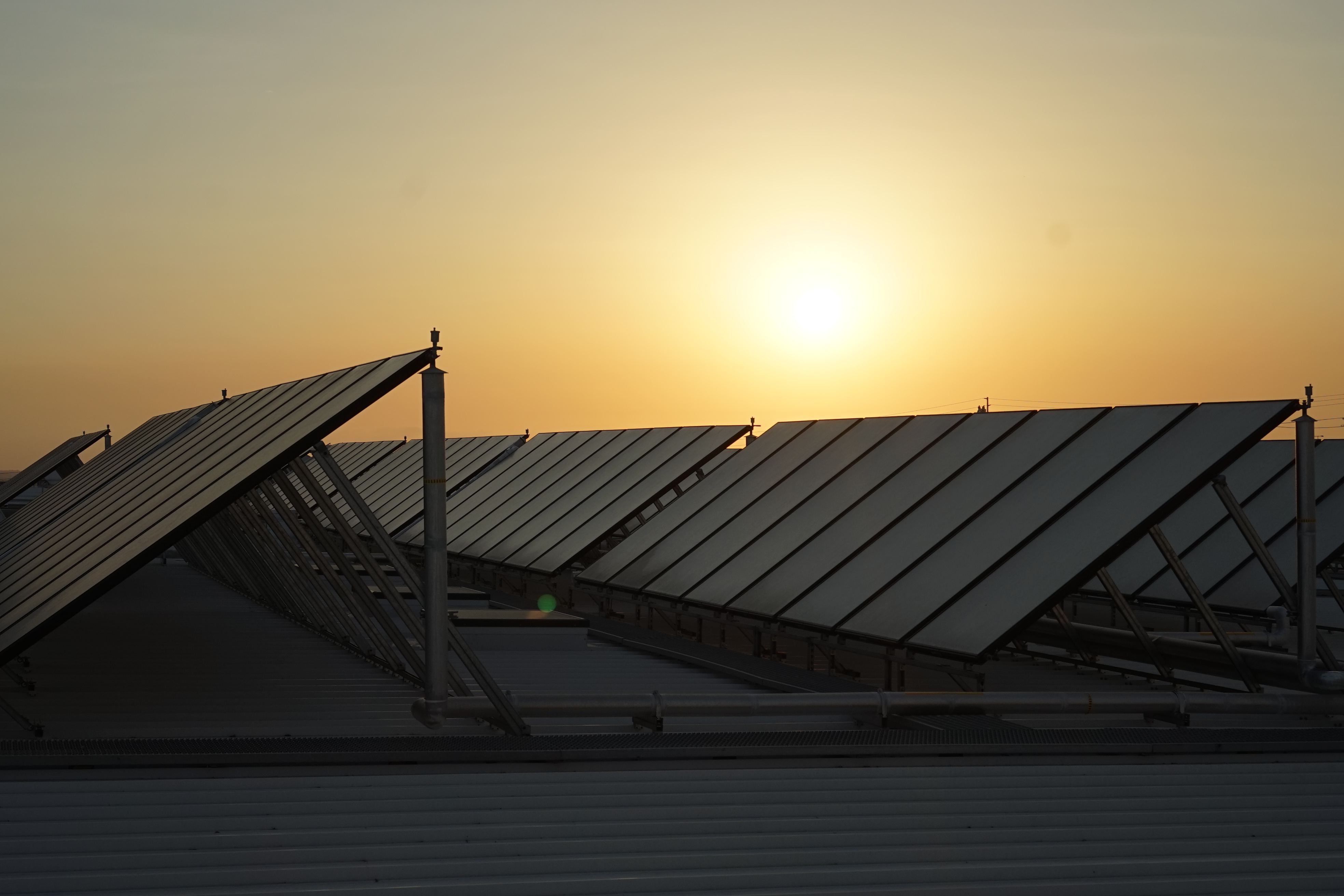 Right now, correctional systems across the country are facing a host of challenges that can impact their ability to focus on their public service duties. These challenges range from overcrowding to aging facilities, to skyrocketing building and maintenance costs. One option more and more systems are turning to is CoreCivic Properties. With maximum flexibility to sensibly solve for these complex issues, CoreCivic Properties is proving to be a key partner at a crucial time.
A number of systems across the country lean on CoreCivic for support, but how we help is customizable and fully dependent on the individual needs of the government partner.
First, we can deliver full support by providing both a state-of-the-art facility and operational staff. Second, we can offer a lease only option in which we provide a modern facility and cover all of the maintenance, while the partner staffs the facility and maintains operational oversight. Third, we can design, build, and maintain a brand-new facility in a lease-to-own agreement with the government partner.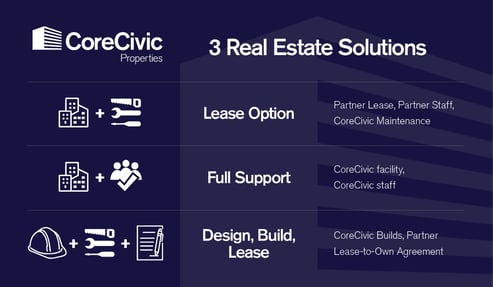 The lease option has been an especially attractive solution for our partners, giving them access to much-needed space that is modern and maintenance free. Currently, CoreCivic leases five facilities to five separate government partners, with opportunities for lease agreements in several more locations across the country. This option is proving to be a game changer by allowing the partner to focus on operations without managing the headaches of HVAC systems or roofing repairs.
"When a partner leases with CoreCivic, they can have peace of mind that the physical plant is always covered," said Lucibeth Mayberry, Chief Innovation Officer at CoreCivic. "We can also offer a partner the opportunity to achieve accreditation by the American Correctional Association (ACA), a reflection of our own high standards."
This recently happened at Southeast Kentucky Correctional Center, in Wheelwright, Kentucky, where the facility earned its first ACA accreditation. The Commonwealth leases the center from CoreCivic Properties for state use.
Leasing with CoreCivic can prove to be a significant cost saver on the utilities front, as well. Every CoreCivic facility is equipped with LED lighting, resulting in reduced power costs. Our facilities feature water regulators that reduce water consumption, and we utilize our large national footprint to negotiate lower utility rates on behalf of our partners. We also look to integrate environmentally friendly upgrades. For example, our leased facility in California is on 100 percent renewable energy with a cost avoidance for the state of more than $300,000 annually.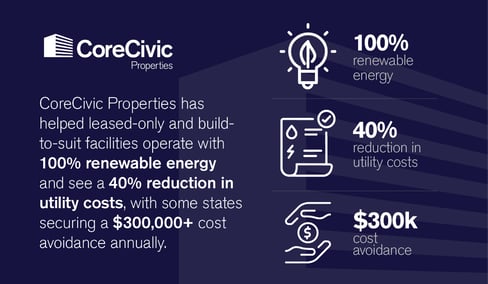 James Reid is the senior director of Energy Management at CoreCivic. He says the reductions in costs are making a significant impact for government partners over time.
"For our build-to-suit, lease-to-own solutions, our partners are seeing utility reductions of around 40 percent," said Reid. "In one instance, the cost avoidance associated with natural gas alone was more than $130,000 year over year."
Energy efficient technologies are also leveraging savings for partners, with year over year reductions of more than seven percent across the board. Further, by having CoreCivic manage facility maintenance, partners are able to avoid the rising costs of construction materials, roofing products, and ongoing supply shortages. CoreCivic solutions are beneficial on multiple fronts, but especially in terms of time expense and cost avoidance.
"As the nation experiences this post-pandemic economic season, it is important to look to innovation," said Mayberry. "I believe what we can offer our government partners is extremely innovative and more valuable now than it ever has been."