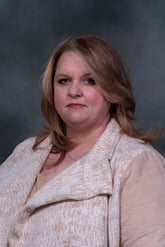 By Michelle Cotter, Director of Educational Services
It's late May as I write this column, and graduation season is in full swing. Just as we've been celebrating friends and family graduating from high school or college, we also celebrate those in our facilities who have completed education programs. We're proud to host graduations year-round in recognition of our students' accomplishments.
As of April 30, our students had earned nearly 500 high school equivalency certificates (HSEs) and over 1,600 industry-recognized certificates (IRCs) this year. And there's even better news: We're still on track to meet the updated goals set forth by our President and CEO Damon Hininger – awarding a total of 7,525 HSEs and 22,849 IRCs between 2015 and year's end.
RELATED: CoreCivic's Education Programs Exceeded Goals, Set New Records in 2018
Of course, these education achievements would not be possible without the dedicated staff in our facilities' education departments. During Teacher Appreciation Week – the first full week of May each year – facilities held special ceremonies, luncheons and other events in their honor. It's so important that we recognize and celebrate the contributions of all facility education staff. This includes principals, academic and vocational instructors, education clerks, librarians, library aides and others. Each person is critical in helping students achieve their goals and prepare for successful reentry.
May was an exciting month for our education staff, not just because of graduations and Teacher Appreciation Week events, but also because we hosted our companywide Education Leadership Conference May 20-23. It was an important time for staff to network, share ideas and offer solutions for the challenges they face at their facilities.
This year's conference was organized around the movie "Freedom Writers," which follows a new teacher in an underperforming freshman English class at an inner city school in Los Angeles. We chose this movie as our theme because it's a true story of hope, resiliency, tolerance and effort — themes we see played out every day in correctional education.
Additionally, we were blown away by the message of our keynote speaker Christian Moore, who founded WhyTry—a resiliency education program—despite living through a difficult childhood and struggling with learning disabilities. His program motivates students, boosts achievement and improves classroom management.
The conference was a resounding success, and our colleagues left refreshed, inspired and full of practical ideas to implement at their facilities.
As I think about other recent education successes, I want to acknowledge former resident Kenneth Ludolph who earned national recognition for his educational achievements. Despite facing challenging circumstances, Kenneth found the courage and strength within himself to move forward, create new opportunities and ultimately thrive. His story displays resiliency, perseverance and hope against all odds. It also demonstrates the vital role education plays in corrections.
VIDEO: Former Resident Kenneth Ludolph Earns National Education Award
As we know, life will eventually throw a curveball (or two) at us all at some point. Those in our care have made some poor choices and are facing incarceration as a result. It's up to them to dig in their heels and thrive despite those circumstances. Kenneth is an example and an inspiration to us all, demonstrating the value of our education and training opportunities to help incarcerated people achieve their goals.
To the education professionals across our company, thank you for helping to make stories like Kenneth's possible. Together, we'll continue to help our students write new stories for their lives.