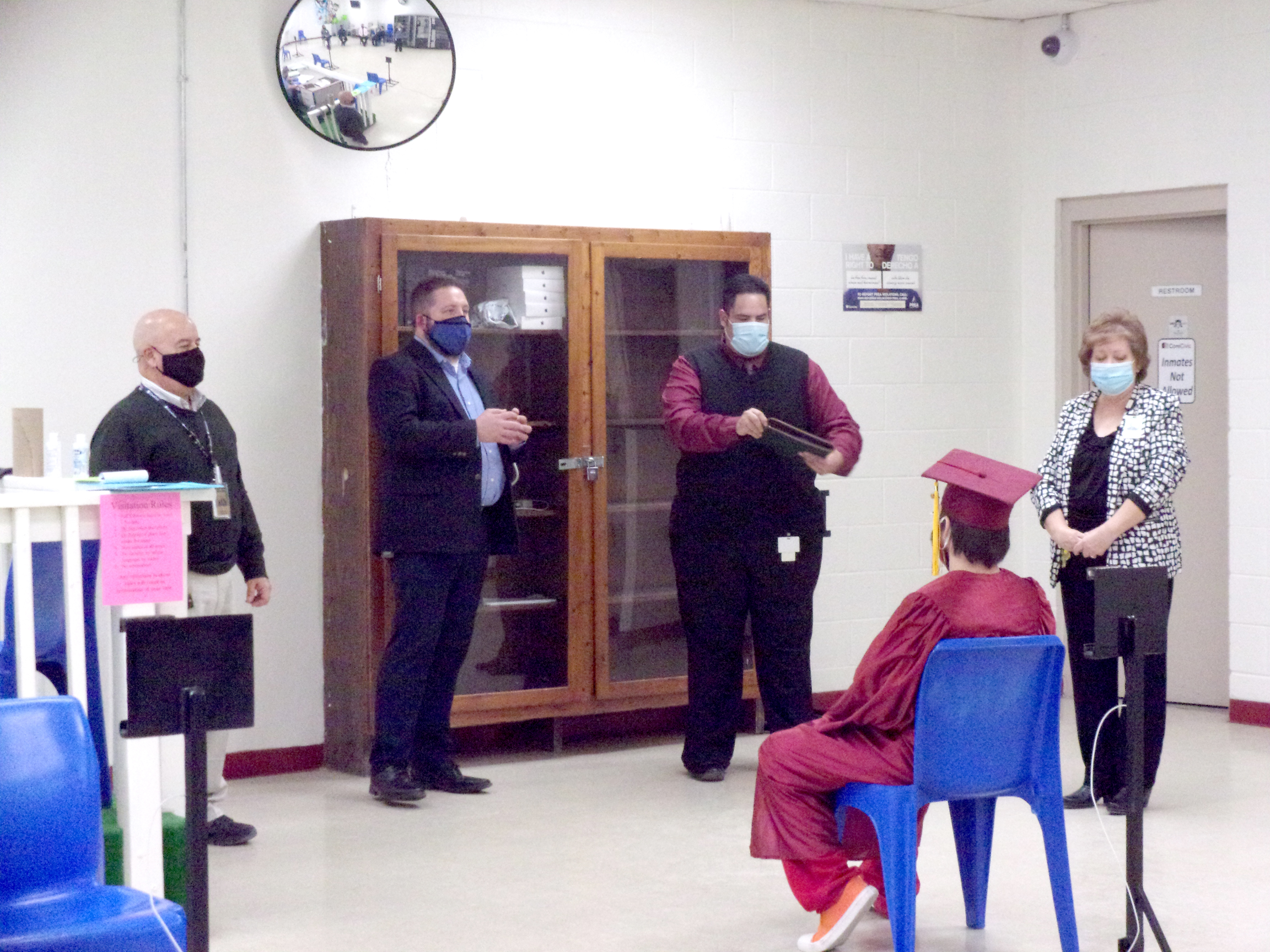 When it comes to correctional education, one may think of student-inmates earning a high school diploma or vocational certificate. While this is true, there are also inmates in correctional facilities today who are taking their education to the next level and working toward a college degree.
Both Bernie A. and Michael C., inmates at CoreCivic's Northwest New Mexico Correctional Center in Grants, recently earned their bachelor's degree in Christian studies thanks to a correctional seminary program through the University of the Southwest (USW) in New Mexico.
It was no easy feat for either of the men, but after more than five years of dedication to their studies, Bernie and Michael joined eight other student-inmates (who earned their High School Equivalency diplomas) on Feb. 11 to celebrate their recent success at a special graduation ceremony held at Northwest New Mexico.
USW's program is facilitated in-person – with exceptions of the pandemic – at correctional facilities by professors from the university. The program is designed to prepare returning inmates for vocational ministry in their communities. Like all other baccalaureate programs, USW required both Bernie and Michael to have completed an associate degree before being awarded a bachelor's. Bernie and Michael did just that, earning their associate degrees through a local community college program made possible by funding from the New Mexico Corrections Department.
"The USW program takes people who have a calling in their lives, places them in an environment where they can grow closer to God in faith alongside other prisoners who share the same values in their ministry calling," said Michael. "The professors from USW made [the program] enjoyable and peaceful."
After embarking on their higher education journey in 2015, Bernie and Michael would dedicate 25 or more hours per week to their studies. Their diligence prompted them both to achieve a grade point average of over 3.7 upon graduation.
So what drove Bernie's and Michael's educational success?
"First and foremost, the USW seminary program would not be possible for me without outside sponsors from the Prison Fellowship," said Bernie. "I remember years before the program launched [at my facility], I was encouraged to pray about the program by the Prison Fellowship sponsors, but it never crossed my mind that I would one day be a participant."
Bernie continued.
"My main motivation to pursue my degree was God because I believe He has a good and perfect plan for my life. Also, the love I have for my family and my fiancée has motivated me; and the heart that I have for my community that I once took part in destroying also motivates me," said Bernie. "I am now motivated to pursue my master's degree and God-willing, a doctorate in theology too."
Much like Bernie, Michael also plans to continue his higher education journey following his release.
"God has given me a vision of what my life should be like in serving Him. He has allowed me to better myself in helping our fellow men," said Michael. "Upon my release, I plan to pursue a job in Biblical counseling through the church I am affiliated with. I will still continue to take classes in counseling in order to get certified."
Thanks to the education staff at Northwest New Mexico, family members of every graduating inmate had the opportunity to attend the February graduation ceremony via video calling on a tablet.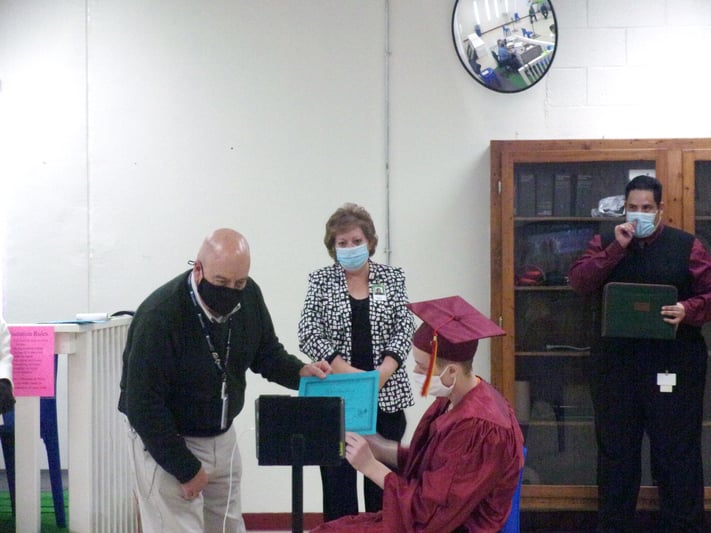 "I read once that any inmate who received a GED while incarcerated was 50 percent less likely to recidivate. Any inmate who received an associate degree while incarcerated was 65 percent less likely to recidivate. Any inmate who received a bachelor's degree while incarcerated was 90 percent less likely to recidivate. And any inmate who received a master's degree while incarcerated has never recidivated. My point here is that educating men and women who are incarcerated is vital to the success of our communities," said Bernie.