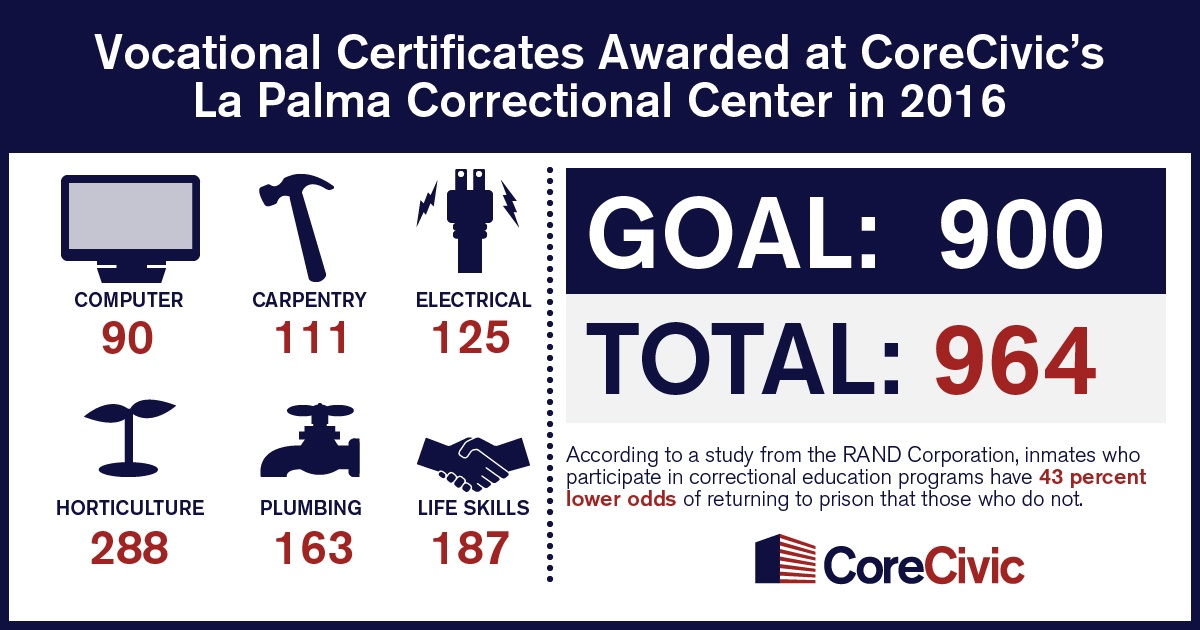 Principal Yolanda Fernandez-Carr is proud of all of the achievements in the vocational program at La Palma Correctional Center, but she doesn't take the credit.
"I totally attribute our success to our instructors."
At the beginning of 2016, staff at La Palma set a big goal - 900 vocational certifications to be earned by the individuals in their care. By the end of the year, they had not only reached their goal but surpassed it, with 964 vocational certifications earned by inmates at the facility in 2016.
Every day, certified instructors work side-by-side with inmate students as they get hands-on instruction in a variety of trades and horticulture - providing the structure, confidence and skills the students need to complete the program and secure employment upon release.
"Education is one of the only things that's proven viable in reducing recidivism," said Robert Wilson, instructor supervisor at La Palma. "The guys that go through the trades program, when they get out, they have the means to get and keep a good job." A 2013 study by the Rand Corporation found that vocational training increases the odds of obtaining employment after incarceration by 28 percent.
The classes are comparable to training they would receive at a junior college or trade school. The curriculum for the carpentry, electrical and construction vocational classes are overseen by the National Center for Construction Education and Research (NCCER), which issues and tracks trade certifications across the construction industry. Horticulture students receive a Master Gardener Certificate from the University of Arizona.
The training culminates in a graduation ceremony, where inmate students don a cap and gown and receive their hard-earned certification. Many inmates complete more than one program.
"I've been through auto-mechanics, computer, and earned my GED in 2012 at the age of 49- years-old," said Louie V., an inmate student at La Palma. "I'm very proud of my accomplishments as are my family members and loved ones."
Inmate students learn skills that are in demand and can be expanded after getting a job. They also learn to work alongside their peers.
"I learned a trade that will not only help me find employment in the construction field, but will also open doors in other areas," said Danny S., inmate student at La Palma. "Thanks to the guidance of our instructor, Mr. Schimel, I also learned how to work with others, as a team."
Often the best motivation for the programs comes from students that have completed them. Past students are invited to speak to their peers at graduation ceremonies, and many are chosen to become tutors or teaching assistants to support future classes.
"As a tutor in the carpentry class I realized just how much I learned going through the material a second, third and fourth time," said John A., inmate student and teaching assistant at La Palma. "Each time I teach the material to new students, I learn something new."
There are also ways for students to connect with the outside world while putting their new skills to use. The carpentry class made picnic tables and benches that were donated to an area domestic shelter and made wooden toys that were donated to the Toys for Tots charity. The Horticulture program also donated harvested crops to local food banks. Community involvement is an important part of reentry preparation.
"They really love it and feel like they're somehow actually connected to the outside world," said Dr. Nicholas Delsordi, instructor supervisor at La Palma. "It's even better when they can learn something, and then send something out into the world … that they feel a kind of connection to."
Through hard work and determination, inmates at La Palma are gaining valuable real-world experience that will be the cornerstone of their successful reentry. Inmate student Rodrigueo F. says he is determined to use his new skills once he gets home.
"I'll be forever thankful because I will take this knowledge and apply it to my life when I am released; and I can guarantee you that I will remember these teachings."