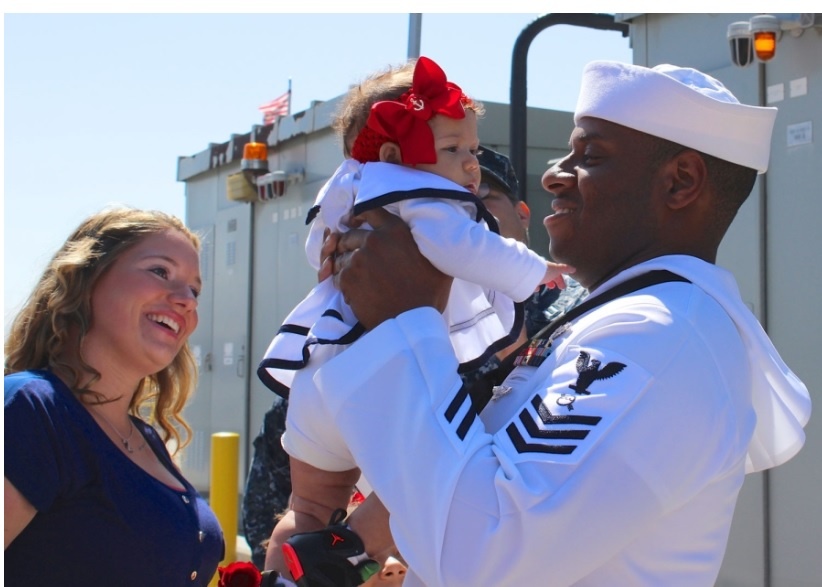 America owes an immeasurable debt of gratitude to the men and women who wear military uniforms. At CoreCivic, we support veterans and service members as part of our mission to better the public good and seek to honor the sacrifices that they and their families make every day.
One way that we do this is with Patriot Packages. Through this program, each CoreCivic facility "adopts" a deployed service member with a connection to CoreCivic. Facility employees then work to assemble a heartfelt care package filled with enough items like non-perishable food, games and toiletries to support a member's entire unit. The packages also contain letters and cards from staff members and inmates. And they're shipped out in time for Veteran's Day.
Since 2011, CoreCivic has delivered 653 Patriot Packages packed with more than 12,000 pounds of donated goods for service members.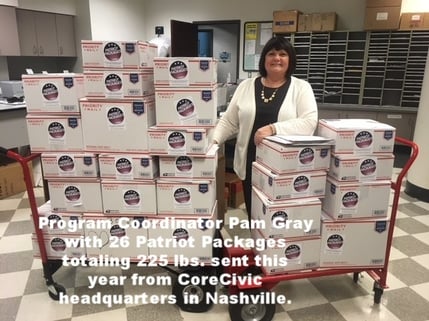 Pam Gray, an employee relations assistant at CoreCivic who has managed the program since its inception, said it's a win-win for all. "More than 10 percent of our employees have military backgrounds themselves and many more employees are spouses or family members of a service member or veteran," Gray said. "This is one small way we can give back to those who sacrifice so much for us. It lets our service members know that there are people at home who care."
Among those CoreCivic employees with spouses overseas is Leann King, a case manager at CoreCivic's Otay Mesa Correctional Center in San Diego. She said being the spouse of a service member can be tough, but they make it work.
"It can be challenging, especially since we don't have family to help in San Diego," she said. "But I am very proud of my husband and the work he is taking part in. I try not to think about the dangers that come along with deployment."
For the King family, deployment has been the hardest part of the job. Leann's husband, Roosevelt King IV, an operations specialist in the U.S. Navy, was overseas when their first child was born.
"The best thing I ever received in any care package were the first pictures of my daughter," Roosevelt said. "Now, the best part of the packages are the letters. They give me something to hold on to whenever I am missing home."
Roosevelt will receive a Patriot Package from CoreCivic this year.
CoreCivic supports military veterans and service members in other ways as well. The company recruits, hires and works hard to develop and retain veterans at all levels. In fact, CoreCivic has consistently been named a "Most Valuable Employer for Military" by Recruit Military and a "Top Military Friendly Employer" by G.I. Jobs magazine. Last year, the company also launched a partnership with the Army PaYs program to provide opportunities to those transitioning out of the Army.
Steven Scott is a recruiter at CoreCivic and also a veteran of the United States Air Force. He says that the transition from military life to a career in corrections can be seamless.
"Veterans find that a career with CoreCivic resembles what they are used to in the service," said Scott. "There is the same sense of duty, a clear chain of command and numerous opportunities for growth and leadership."
CoreCivic also partners with groups like Recruit Military and military installations across the country for job fairs and hiring events.
"We feel very fortunate that so many former service members have chosen CoreCivic as an extension of their careers of service," said Damon Hininger, president and CEO, CoreCivic. "This Veterans Day, we salute the many contributions of our military veterans and their families to their communities and our nation."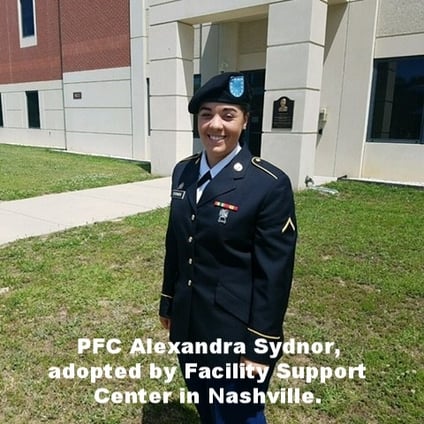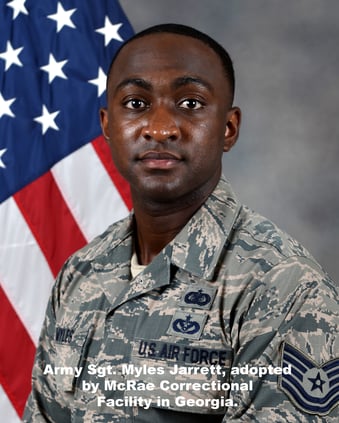 To see Patriot Package photos from CoreCivic teams across the country, visit our Facebook page.