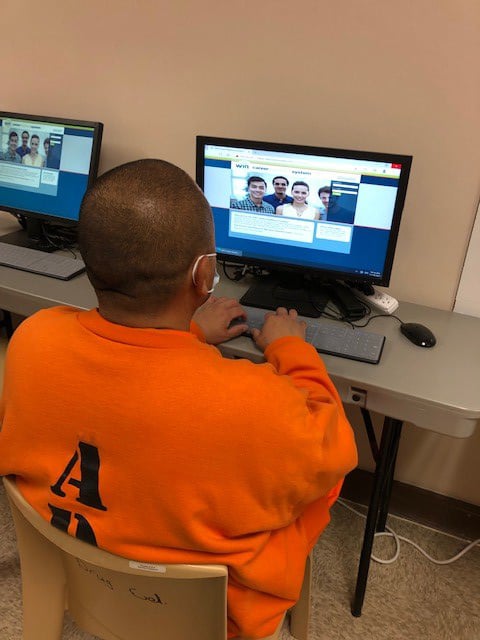 CoreCivic's Red Rock Correctional Center in Eloy, Arizona, is the first adult correctional facility in the state to implement the Arizona Career Readiness Credential (ACRC) program—an employment-focused initiative that started in 2018 by the Arizona Commerce Authority's Office of Economic Opportunity (OEO). Born out of Arizona Governor Doug Ducey's request to reduce unemployment and prepare citizens for the workforce statewide, the ACRC program ̶ a multi-step credential process ̶ offers those who complete the program and pass the course exams a state-recognized certificate, qualifying job seekers and helping employers secure and retain talent in industries such as healthcare, manufacturing, information technology, and construction.
The program teaches seven foundational career skills to participants: communicating effectively, teamwork and collaboration, professionalism, critical thinking and problem solving, applied mathematics, reading for information, and locating information. An employer can sign up to recognize this program on its job postings so those seeking employment can narrow their search to organizations who prefer candidates with the credential. At least 500 job locations across Arizona recognize the ACRC at this time. Citizens can test for the credential at locations including ARIZONA@WORK™ offices, adult education programs, and non-profit organizations.
Through a collaboration between the Arizona Department of Corrections, Rehabilitation, and Reentry (ADCRR), the Arizona OEO, and CoreCivic, Red Rock officially launched the ACRC program to returning citizens in July. Program participants at Red Rock undergo approximately four to eight hours of preparation work before sitting for a series of exams totaling four hours, which they must pass in order to receive certification. With the help of student- and faculty-volunteer instructors from Phoenix College in Maricopa County, the exam is administered on a monthly basis at Red Rock.

"The ACRC collaboration between the OEO and CoreCivic not only improves the labor market prospects of those returning to society, but it helps our Maricopa college students connect their classroom learning with real-world experience on [methods for] helping reduce recidivism," said Nicholas DelSordi, Ph.D, a professor of Sociology at Phoenix College who volunteers to help facilitate the ACRC program at Red Rock.
In order to be eligible for the ACRC exam, individuals at Red Rock must have less than 12 months remaining on their sentence and have a recent GED, vocational, or college program completion. Since July, five Red Rock residents have earned the full ACRC credential, receiving the state-recognized certificate. One of these five individuals has recently reentered society. Additionally, a total of 35 ACRC subject-area assessments have been completed by residents.
Red Rock is offering timely solutions to both returning citizens and Arizona employers through this ACRC collaboration. By 2022, Arizona employers project a need for more than 325,000 additional employees across the state according to the Arizona Commerce Authority.
"Our programming efforts at Red Rock are designed to help those in our care be well-equipped for life and careers following release," said Keith Munson, principal at CoreCivic's Red Rock facility. "The ACRC program is an opportunity to supply Arizona's workforce with highly qualified candidates who are eager to find steady employment and succeed in life after incarceration."