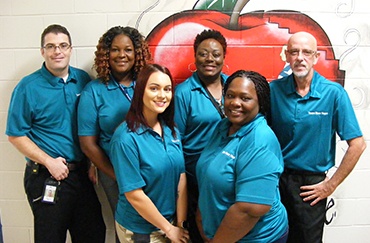 Of the approximately 1.5 million people incarcerated in America's state and federal prisons, 95 percent will eventually be released back to their communities. Our more than 30 years of experience at CoreCivic has shown that pairing vocational skills training in prison with access to community job placement programs is highly effective at helping inmates find solid employment and successfully reenter the community.
In fact, a 2015 study by the Manhattan Institute revealed that training designed to quickly place non-violent former inmates in jobs could reduce their likelihood of being rearrested by about 38 percent. That's why vocational training programs are vital to CoreCivic's mission to reduce recidivism. The way to amplify that impact, in our experience, is to partner with our communities to get inmates access to job readiness training before they are released.
A great example of one of these partnerships is at CoreCivic's Lake City Correctional Facility in Lake City, Florida, where our staff work with the nonprofit organization Operation New Hope and its nationally recognized Ready4Work program, which helps former inmates get jobs and return to their communities.
Ready4Work offers former inmates a four to six-week career development training course featuring employment and life skills training. It brings together participants with a case manager to provide guidance and support, referrals for community assistance and life coaching.
The program has helped place more than 1,700 people in jobs and has a recidivism rate of 29 percent, compared to 67 percent for other state inmates.
"When our warden first heard about Operation New Hope and Ready4Work on NPR, we reached out to learn more and began our great partnership," said Lake City's Program Facilitator Ashley Crews. "Our goal is for inmates to not re-offend, to further their education and to use the tools and resources we provide to transform their lives."
Lake City inmates participating in the program must go through a screening process, in which they have to pass initial and random drug tests, among other criteria. After the screening process, they are connected with a mentor who they meet with every month for six months leading up to release to discuss their goals and plans for every stage of reentry. After release, Lake City inmates can also enroll in sister programs in Tallahassee and Tampa if they plan to relocate to one of those areas.
"It's been a pleasure to work with Operation New Hope," Crews said. "They, like us, are dedicated to reducing recidivism in the community and helping individuals become successful."
Having served more than 5,000 individuals across the country, Ready4Work's success has not only earned it national recognition, but also praise from former Presidents Bill Clinton, George W. Bush and Barack Obama. Participants are provided with rent assistance, mental health screenings, weekly stipends, housing assistance, bus passes, daily lunch and dress clothing for class and interviews, in addition to job placement and family reunification assistance — all important tools for a successful and stable reentry.
Offering inmates the opportunity for successful reentry is a priority for our staff at Lake City and throughout CoreCivic. Through education, vocational training and substance abuse treatment programs, inmates have the chance to better themselves and change their futures. Partnering with community organizations like Operation New Hope allows inmates to keep succeeding even long after they leave our care.