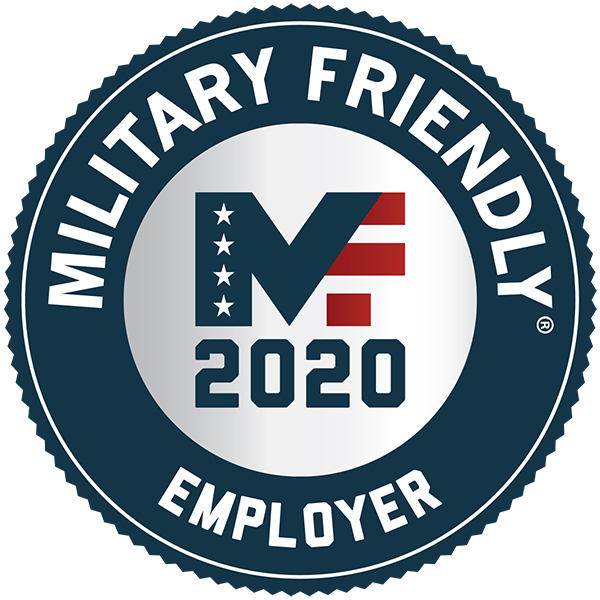 By Brandon Bissell, CoreCivic Manager of Public Affairs
There's an adage in the U.S. military: "Mission first, people always." This simple phrase not only embodies the military's values, but it also provides purpose and guidance to those who serve.
Having retired recently from the Army after 20 years, my goal was to find a company with similar values. I found that at CoreCivic. Our mission is straightforward: Help government better the public good. And our focus is always on people – those entrusted to our care and the dedicated employees who serve them.
It's no surprise that CoreCivic's values are similar to those I learned from the military. Since 2007, G.I. Jobs Magazine has named CoreCivic a Military Friendly® Employer 12 times. This designation recognizes our commitment, effort and success in creating sustainable and meaningful career opportunities for the military community. Most recently, our company earned recognition among the Military Friendly® Employers for 2020.
Currently, 12 percent of CoreCivic employees are self-identified veterans. That's due in large part to the tireless work of our Veterans Task Force (VTF).

Established in 2017, the VTF is a companywide diversity initiative designed to support and engage employees who are active and former service members. The VTF also works to attract prospective employees as they transition out of the military.
RELATED: CoreCivic's Veterans Task Force Supports Those Who Served
Currently, there are 105 VTF members across 44 CoreCivic facilities. All employees – veterans and non-veterans alike – are welcome to join. The VTF leads multiple initiatives, most recently augmenting hiring efforts across the company. To support these mission-critical efforts, CoreCivic has partnered with the Whalls Group, a veteran-owned consulting firm that specializes in bridging the gap between veterans and employers.
To date, the Whalls Group has assisted with talent acquisition for the reactivations of Eden Detention Center and Torrance County Detention Facility, and supported staffing efforts at Leavenworth Detention Center, South Central Correctional Center, Trousdale Turner Correctional Center and TransCor.
"Both CoreCivic and the military are service-centric organizations, so our partnership with the Whalls Group is a natural fit for our company," said Nick Tompkins, CoreCivic managing director of Talent Acquisition and Management. "Most importantly, this partnership supports a seamless transition for individuals leaving the military and searching for a gratifying, service-oriented career."
Recognizing and appreciating our veterans
In honor of Veterans Day, which is Nov. 11 each year, CoreCivic recognizes employees who are veterans by giving them specially designed lapel pins and challenge coins. In the military, challenge coins are a traditional token of appreciation.
"Veterans who would like to receive a challenge coin and pin may contact their HR representative for the appropriate self-identification form, if they haven't already," Tompkins said. "We want to make sure everyone has an opportunity to be recognized."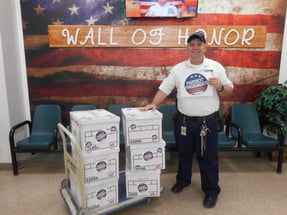 For nearly a decade, CoreCivic has also supported military men and women through our Patriot Packages program. Each year, employees across the company assemble care packages for active duty employees. Employees' active duty family members are also eligible to receive care packages. On average, CoreCivic ships over 120 care packages totaling 2,000 pounds each year. In 2018, CoreCivic employees in Tennessee alone shipped 32 packages weighing 420 pounds to 12 adoptees.
This year's collection period was Sept. 30 - Oct. 25. The company sponsored over 40 adoptees, and employees shipped their care packages to arrive in time for Veterans Day.

RELATED: Saluting Our Veterans: How CoreCivic Supports Those Who Serve
"We're proud of all the ways CoreCivic supports our military," Tompkins said. "We hope more and more employees will consider joining the VTF. Everyone is invited to participate."
Veterans interested in joining CoreCivic may email MilitaryRecruiting@CoreCivic.com or visit https://jobs.corecivic.com/page/show/veterans for more information.