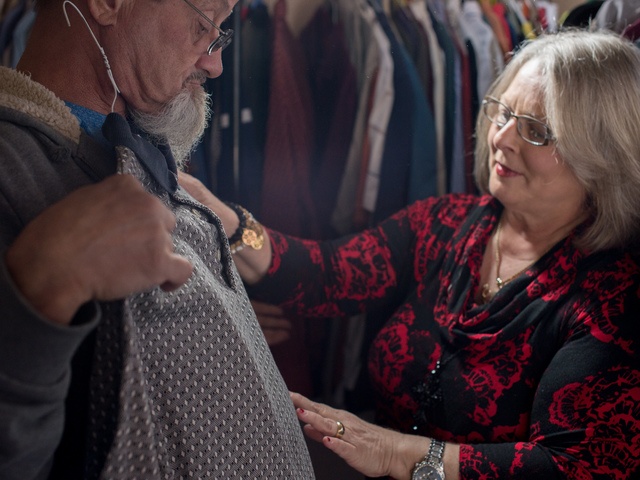 Jan Wilson-Fortelney, administrative clerk at Carver Transitional Center, helps a resident select clothing for a job interview.
For the nearly 300 men who live full-time at Carver Transitional Center in Oklahoma City, every day brings them closer to the end of their prison sentences – and a return to normal life.
Some take the bus or facility transport to their new jobs each day, working in construction, food service, as electricians or plumbers, or some in highly specialized fields. Some attend counseling, church or other classes. With just six months to a year left in their sentences, it's a critical period of transition for these men.
For the staff at Carver, though, successful re-entry is mission-critical, and it starts as soon as a new resident walks in the door.
"The main goal is for them to start to reintegrate back into the community," said Elizabeth Stewart, the facility administrator at Carver. "To be successful, they need to stay clean and sober, and they need to have employment. If they can be employed when they leave this facility, it just opens so many opportunities."
The path ahead of them can be narrow.
Though 95 percent of inmates in state prisons will at some point be released back into their communities, roughly three out of four released inmates end up arrested again, and more than half return to prison soon after release, according to the U.S. Bureau of Justice Statistics.
Luckily, the men at Carver aren't alone in their journey to successfully return to their communities. CoreCivic makes successful re-entry a day-one priority for every person in its facilities. The staff at Carver see it as their job — their calling, even — to make sure the men there break the cycle of recidivism.
Part of that is helping them feel normal again, said Jan Wilson-Fortelney, who works as an administrative clerk at Carver.
"We try to dignify them in every way possible," she said. "Most of them are excited that they are at the end of their correctional stay, and that they will be going out and finding work. It's a little daunting for them. Some people have been in for a very long time. That's why I like to do the store runs and do normal things with them."
Wilson-Fortelney started working at Carver last year after spending 34 years in dentistry.
"I like to help people," she said. "God put this in my path, and I really felt that he wanted me here, so here I am."
When she first started, Wilson-Fortelney learned that the main goal was to make sure the men at Carver have the means and opportunity to live and work on their own. Seeing them arrive straight from prison, many still in their gray scrubs, she said the first thing she thought of was "dress for success."
"We know how important it is to feel good about yourself, and being dressed properly is a primary psychological element for instilling confidence," she said. "We stress to them that you only get one chance to make a good first impression."
With Stewart's support, and relying on volunteers, churches that partner with Carver, friends, family, her homeowners' association, and even the Department of Veterans Affairs for residents who previously served in the Armed Forces, Wilson-Fortelney set up a free communal clothing closet where any of the 300 men can pick out new outfits.
"The response was humbling and overwhelming," she said.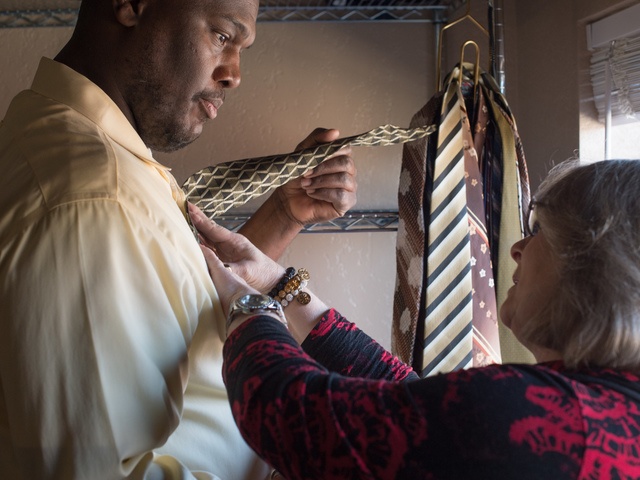 Wilson-Fortelney helps another resident "dress for success."
"It's been a relief for them because some of the guys don't have families," Stewart said. "I think it takes a load off them in terms of trying to look decent when they go out."
Although the staff at Carver often drive residents to organizations like Goodwill and Salvation Army and Jesus House for clothing, Stewart said "it makes a world of difference" to have the clothes available in the facility.
"One man told me this was the first time he had been 'shopping' in 10 years," Wilson-Fortelney said. "The men stop me in the dorms to show me how nice they look in their new clothes."
Since the arrival of the clothing closet, she said church attendance has "exploded."
"There are 15 churches these men go to," Wilson-Fortelney said. "They love to go in there and get a nice tie and shirt to wear, not only for an interview but to go to church in. It's very humbling to hear somebody say that they hadn't worn a shirt and tie in 15 years, and they just get so excited."
Church is one of many activities that the Carver staff encourage to help residents ease back into a successful life.
Carver also hosts a victims impact program through the Oklahoma Department of Corrections, which helps residents understand and appreciate the impact their past crimes had on victims, as well as anger management classes, Alcoholics Anonymous meetings and faith-based programs led by local churches that visit the facility. Residents also work with The Education and Employment Ministry, or TEEM, which helps them with education, personal development and work readiness training.
Stewart said one Carver resident working with TEEM was even interviewed by The Oprah Winfrey Show to discuss his success story.
Ralph Ellison Library is also partnering with Carver to get all the men library cards, pick up and drop off books at the facility, and open its computer labs to help them fill out job applications. The library personnel help them learn how to use computers to conduct job searches, create resumes and fill out job applications online.
"Most of these men have very little experience with computer technology and how vital it can be in helping them," Wilson-Fortelney said.
From taking the men out to dinner, driving them to jobs and classes or even on shopping trips, the staff at Carver ease them back into normal life day by day. Even when the long-awaited day comes when a resident gets to walk out of Carver for the last time, a staff member often drives him to the host facility, the probation office or the bus station so he can go home.
"I tell them it's going to be OK," Wilson-Fortelney said. "It's going to be scary. It's going to be a lot of new things to get used to, but they are capable of achieving whatever goals they set for themselves. I tell them it's going to be OK because they have the ability to make it OK."