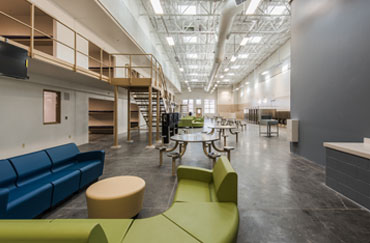 As Kate Spirk sees it, CoreCivic can get better by getting greener.
Spirk's role as CoreCivic's director of Energy Management is to be curious, ask questions and identify where the company can improve environmental operations.
"Finding those areas where we can conserve natural resources within our operations helps us serve the public good," Spirk said. "Not only is it better for the environment, it's also a great return on investment and something our government partners like to see."
Spirk's efforts are part of a broader initiative by CoreCivic to steer the corrections industry toward enhanced environmental stewardship by focusing on water conservation, reliance on solar power for and heating water, LED lighting retrofits and recycling.
The efforts are paying off.
Two of CoreCivic's newest facilities — Otay Mesa Detention Center in San Diego and Trousdale Turner Correctional Center in Hartsville, Tenn. — have earned the distinguished Leadership in Energy and Environmental Design (LEED) certification.
The designation makes Trousdale Turner the largest LEED certified correctional facility in the state of Tennessee and the largest privately-owned facility in the nation to be LEED certified.
In the case of the Otay Mesa facility, CoreCivic exceeded its own goal with a prized LEED Silver certification — the first in company history.
"We care deeply about being a responsible company in all aspects of our operations," said Tim Aebie, CoreCivic's senior director of Design Real Estate Development. "What we've found is that achieving LEED certification is good for the environment, good for our business and good for the safety and security of our facilities."
There are four levels of LEED certification: Certified, Silver, Gold and Platinum. Each is earned through an extensive auditing process with criteria that range widely, from landscaping, charging stations for electric hybrid vehicles and bike racks to building materials, recycling efforts and water usage.
"These are very good design principles, and they led to an improved internal environment in the facility," Aebie said. "LEED requires not just energy efficiency, but also making sure a building's occupants are satisfied and comfortable. That played a pretty big role in how we went about designing the facility — a lot of windows, a lot of natural light for both detainees and staff, a higher level of temperature control in the office space."
Aebie's team took a major focus on conserving electricity and water for Otay Mesa's LEED Silver certification.
Skylights provide natural lighting whenever possible, with a sensor that deactivates ceiling lights when skylights alone provide an appropriate lighting level.
Studies have also shown that natural lighting is more calming and can reduce symptoms of depression.
"A calming environment translates into fewer issues and happier staff," Aebie said.
In addition to lighting, the solar panels heat about 35 percent of Otay Mesa's water supply.
"This was huge," Aebie said. "Otay Mesa will continue to benefit from solar hot water for the life of the facility."
While solar water heating and additional natural lighting might seem like clear choices for building a sustainable facility, Aebie said CoreCivic also earned points with LEED for creative solutions.
"Some of the folks we consulted told us that getting LEED certification for the detainee housing would be too difficult, but we just put our minds to finding ways to do it," Aebie said.
Those creative solutions led to Otay Mesa conserving about 16 percent more water than similar facilities in California.
By piping for dual water, Otay Mesa has the ability to run gray water to toilets, making it less dependent on potable water. The commercial-grade laundry machine, which uses up to 55 gallons of water during a regular cycle, also uses a trough to collect, filter and clean water from one laundry cycle to the next — saving 50 percent of water per load.
"Our facilities do a lot of laundry, so any conservation there helps," Spirk said. "We're saving in water, utility costs and sewer fees. It's a tremendous savings for the company."
In addition to light and water conservation measures, Otay Mesa was built almost entirely from sustainable materials, from short-term growth lumber products and carpeting to organic glues and wallpaper. CoreCivic also purged all construction contaminants from the building, creating a cleaner environment, and recycled 87 percent of construction debris that would otherwise have gone to a landfill.
"We took these steps not just with cost savings in mind," Aebie said. "We're also thinking about the health of the people occupying the building, and the health of the environment. We're proud of the LEED Silver certification because we invested a lot of time and energy in it, and it serves as a sort of sticker that we are using natural resources in an environmentally responsible way.
Given the success of Otay Mesa's LEED Silver certification, Aebie and Spirk both said CoreCivic will continue to pursue more LEED initiatives in the future — as well as other sustainability projects.
"Every little bit helps," Spirk said. "There are big payoffs in cost savings and resource conservation with projects like LEED, as well as smaller-scale projects like water conservation, light conservation, recycling. We want to be vigilant and protective of our natural resources."